The Healthengine Recalls system is designed to help your practice effectively deliver recalls in the form of a SMS, letter and/or phone call to ensure that you are able to contact your patients in a way that best suits them!

To find out how to send letter and phone recalls, check out our Help Centre articles below:
How to Send an SMS Recall
To send an SMS recall, check the box next to the patient recall/s you wish to process and then select the 'SMS' button beneath 'Send Recall' as seen in the image below: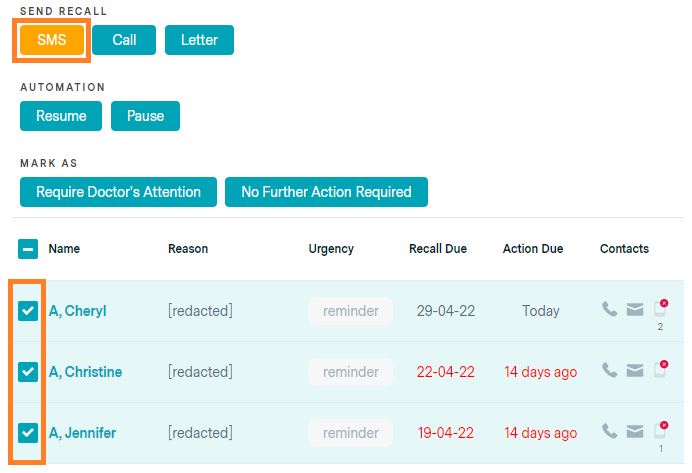 If any of the patients associated with the selected recalls have not opted in to receive SMS communications, the phone icon under 'Contacts' will appear with a red cross and the SMS action button will turn orange to indicate this.
Best Practice users Please Note: All patients will display as not having given consent.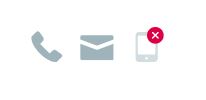 If you decide to continue regardless of this and click the 'SMS' button, you will get a pop-up message warning you that the patient you are trying to send an SMS to has not agreed to receive SMS recalls.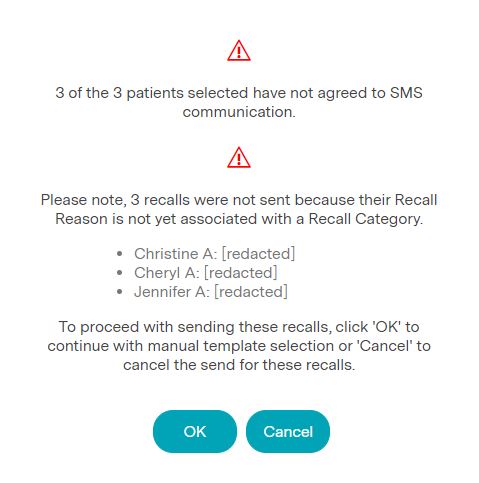 You may proceed if necessary however if you wish to cancel the send and return to the previous screen, simply click the 'Cancel' button on the pop-up.
Next, if you have set-up your Recalls Categories, your SMS will be sent - to learn more about Recalls Categories, check out our Help Centre article, How to use Recalls Categories.

If you haven't set-up Recall Categories, then you will be required to press 'Next' and be directed to the 'Schedule SMS Messages' screen.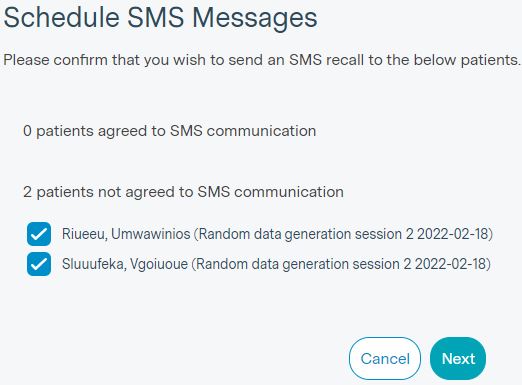 The Schedule SMS Messages Screen
In the Schedule SMS Messages screen, you can choose a pre-existing template from the 'Choose template' drop-down menu or you can enter a custom message into the 'Message content' box.
If you select a pre-existing template, its content will appear in the 'Message content' box which you can then customise for that particular SMS send.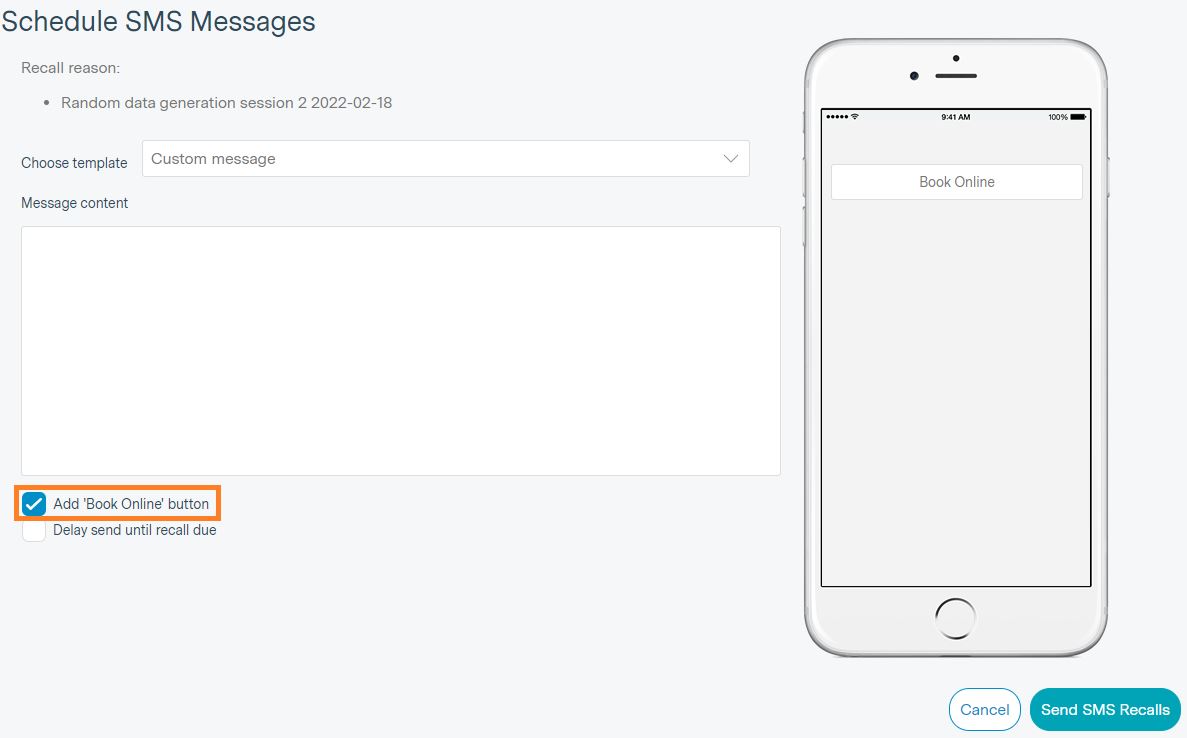 Please Note: You can also choose to add a 'Book Online' button! We recommend this box is checked for all SMS recalls as this allows the patient to book an appointment quickly and easily after viewing their recall message.
You can also delay the SMS recall to not send until the recall action is due by checking the 'Delay send until recall due' box - this allows you to schedule an SMS send in advance so that you can be ahead in processing your recalls rather than waiting until the action is due to process them.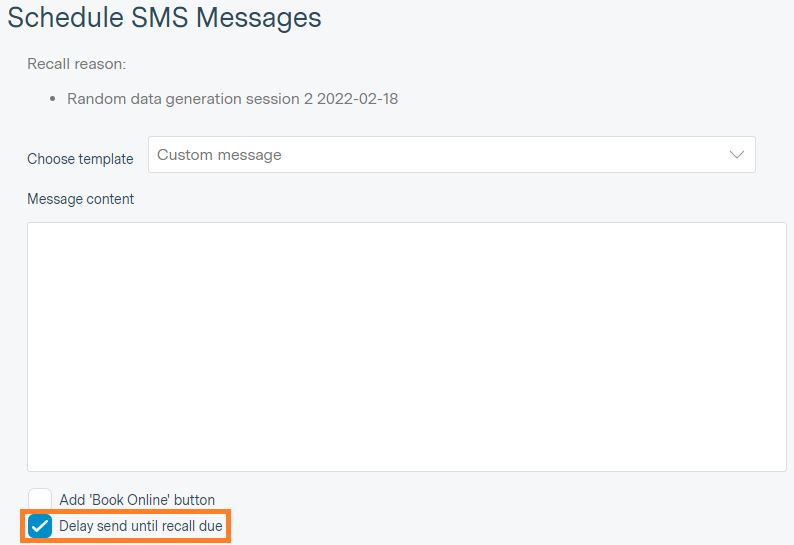 Once you are ready to schedule the SMS send, click on the 'Send SMS Recalls' button or alternatively, you can cancel the process at any time by clicking on the 'Cancel' button.

Once you have successfully scheduled an SMS send, the recall/s will sit in the 'SMS Pending' tab until the SMS is sent. From this tab, you are able to cancel an SMS send at any time up until it is sent:
For Immediate SMS sends - you have up to 60 seconds to cancel the send.



For Scheduled SMS sends - you have up until the action is due to cancel the send.
Sending Multiple Recall Reasons Simultaneously
If you have selected multiple recalls and there is more than one recall type without an associated category, you will see the following pop-up: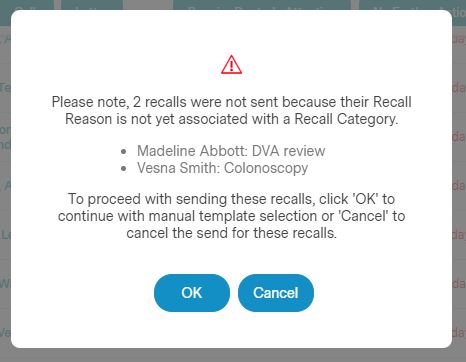 You may continue by clicking 'OK' if you are happy with a generic recall message that isn't specific to any recall type.
Please Note: If you need to send different messages for the different recall types selected, it is recommended that you set-up categories.
Alternatively you can process these recalls separately - to make this easier, you can filter by recall type when selecting which recalls to process. To learn more about this, read out Help Centre article, Healthengine's Recalls Filters.


If you experience any issues or need assistance, reach out to our friendly Healthengine Support Team via phone, chat or email support@healthengine.com.au