4 ways to create on the day appointments or block availability showing online.
The following describes four different methods that allow you to create on-the-day appointments in Pracsoft.


Option 1: Block out manually
Manually block the appointments by following these instructions:
Select the time slot or a range of slots.
Type "On the day" or whatever you'd like to call them.
Press Ctrl+Enter.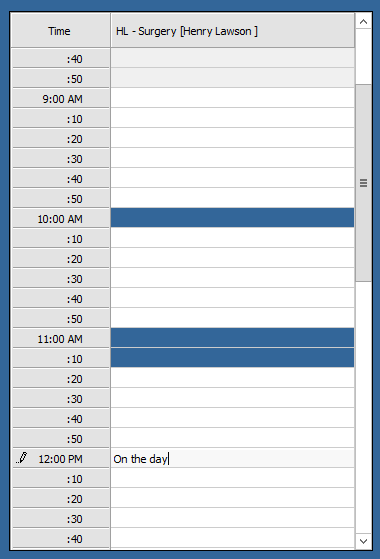 When you press Ctrl+Enter, it will fill all of the selected slots in with 'On the day' (or whatever text you typed in the previous step).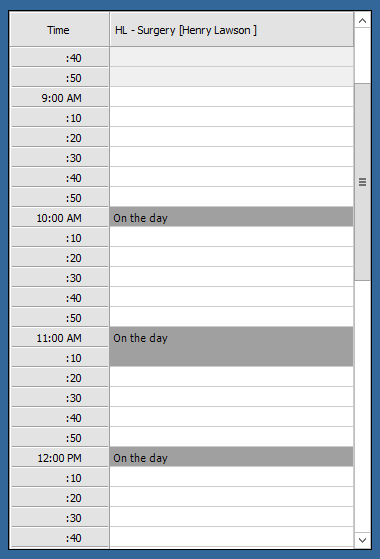 This will block the availability and display the words "On the day" so practice staff know they can book appointments in there.
This can be a good way to micro-manage availability, but could be difficult to maintain during extended busy times because you have to manually add them in wherever you want them in advance.
You would need to block them out far enough into the future (usually 30 days) to stop them being available online.
Time-saver: Select many slots at a time all over the day by holding Ctrl when you click, or when you click and drag, then start typing.
Option 2: Break up the sessions
Break up the sessions during the day and select the 'Other location' checkbox for the sessions you don't want showing online.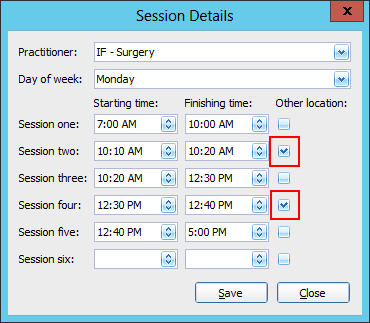 This will make it automated, but adds a small element of complexity to managing sessions. Check if it works first, but if the other location sessions are still showing online after a couple of hours, please email the Support team support@healthengine.com.au and we can update your configuration.
Option 3: Add reserved appointments
Right click on any available slot in the appointment book and select 'Add Reserved Appointment'. You can also use the 'Appointment' menu at the top of the screen.
Select the practitioner, date range, and frequency, then click 'Process'. Once you're happy with the times click 'Close'.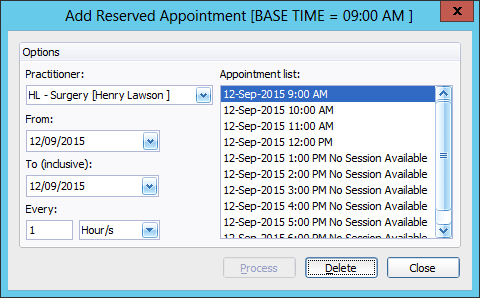 The program will generate the range of reserved appointments.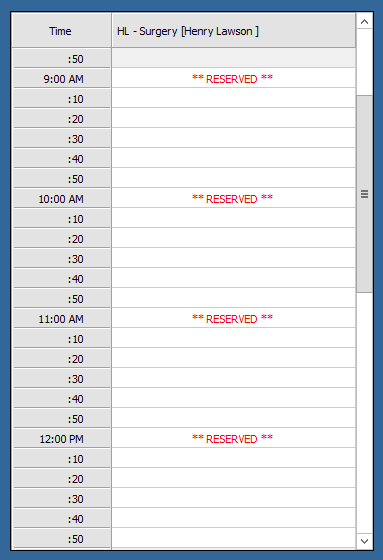 This can be recurring every x times during the day, and from x date to x date.
Time-saver: When creating an appointment in a reserved slot, if you simply select it and start typing a patient's name it will give you a warning 'Non-Session Time selected!', which is fine, it just means an extra step to click ok before you can add the appointment. To bypass the message, simply select the reserved slot and hit F3.
Option 4: Create a patient called 'On the day'
Create a new patient called 'On the day', then add appointments as usual, or add recurring appointments. [Recurring] works the same as [Reserved] appointments except you just add the 'On the day' patient appointment into a slot first, then right click and select 'Add Recurring Appointment'.