Sidebar is an appointment notification/manually publishing solution unique to HealthEngine. As an appointment notification system, it is used in conjunction with the Healthengine Calendar to receive notifications when a patient books or cancels their appointment and allows you to update this in your practice software diary!
Sidebar can also be used to publish and remove availability on a practice level rather than by practitioner.
However, please be aware, Sidebar and Calendar cannot be used in conjunction with one another - due to incompatibilities, we recommend practices stick to using Calendar as a publishing feature and Sidebar as a notification feature.
Page Contents
Download
You can download the sidebar from our downloads page here or you can navigate to 'Settings' in your Practice Admin and then select 'Installation Resources'. From here, you have the opportunity to download the 'Appointment Sidebar' for Windows and Mac or use our Healthengine web-based version which will open in a web browser.


Login
To log into your Sidebar, simply open the application or web-based version and enter your HealthEngine email address and password - this should be the same login details you use for your Practice Admin portal.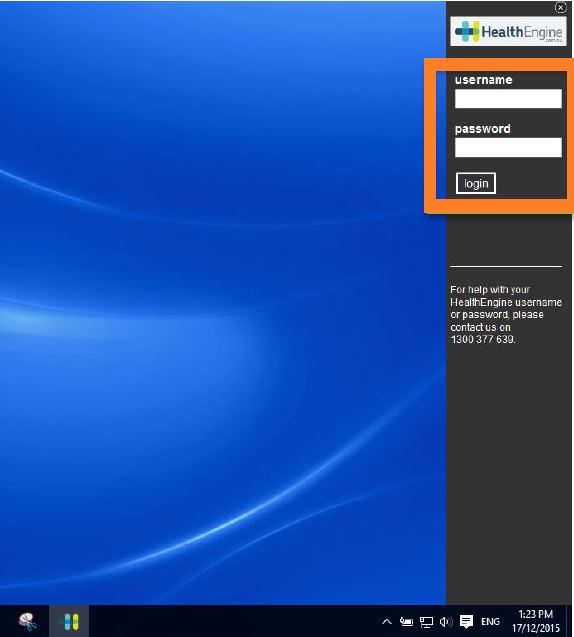 Refreshing and Logging Out
You can refresh Sidebar at any time by simply clicking on the refresh button as indicated in the image below. This will update your Sidebar with any new practitioners you may have added in your Practice Admin portal since initially downloading the Sidebar.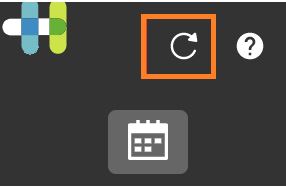 To logout of your Sidebar, right click anywhere on the Sidebar and select logout. It is recommended you leave the Sidebar logged in at all times, however you may need to logout if you manage multiple practices.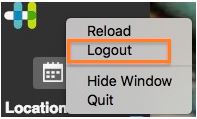 Creating Availability
We recommend publishing availability via our Calendar feature, which you can learn more about it in our Help Centre article, Practice Admin's 'Manage Availability' Page.
However, if you choose to create availability via Sidebar instead of Calendar this will publish appointments as a practice rather than per practitioner and is the only way to do so.
To create a new available time slot in Sidebar, click on 'Create Availability' and specify the following (using drop-down selections):


Appointment length
This is also known as the slot length in your own practice software or diary - you want all the appointment types you have created in your Practice Admin portal to be divisible by this number. You can read more about appointment types in our Help Centre article, Adding, Editing and Removing Appointment Types
For example: if you have an appointment type set as 30 minutes and your availability is in 15 minute slots it will take two of those slots for the 30 minute appointment.


Practitioner (if applicable)
If no practitioner is selected, the appointment will be created on a practice level and only appear on your practice profile and not a practitioner's profile.
You can then specify the 'Speciality' (if applicable) and finally the date and time of the appointment.
Following this, you simply need to select 'Create' to finalise these appointment slots and click 'Back' when finished.

You can also create a block of availability, i.e. a full day of 30 minute slots.
To create a block, you must tick the 'Create Block' checkbox and specify a start and end date. Sidebar will display the number of slots within the block. Remember to click 'Create' to finalise the block and 'Back' when finished.

Please note that availability created in Sidebar will not appear in the Calendar tab of Manage Availability in your Practice Admin.


Browsing your Availability
Browsing your availability schedule allows you to see the available times you have set up in your Sidebar for patients to book online!
You can browse availability by day (today or tomorrow) or by week.
You can also filter the availability to view by 'Location', 'Specialty', 'Practitioner', and 'All Appointments' availability.

Removing your Availability
To remove availability, simply find the available time you wish to remove and click the 'X' button next to it as seen in the image below. Please wait a moment for the time to disappear from the Sidebar screen and then it will also remove from the Healthengine website.
When an appointment is booked over the phone or in person, click on that available time in the Sidebar to ensure it is removed from the HealthEngine website too - this will help you avoid any double bookings.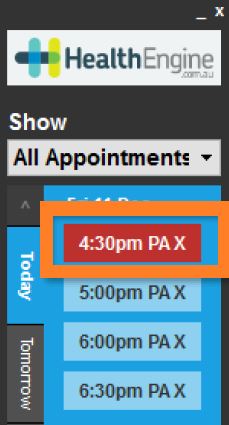 Please note: Calendar availability deleted via the Sidebar is treated as a 'booked appointment' and will need to be republished via the schedule in the Calendar tab of Manage Availability in your Practice Admin settings.
Receiving a Booking made on Healthengine
When an appointment notification appears, click on the green box and enter the patient details into your appointment book. Following this, click 'mark as complete' when you're done.
It's important that you move any booked appointments over into your practice appointment book first thing in the morning before you start taking calls and booking in further patients. This will help avoid any double bookings.

Receiving a Booking Cancellation
If a patient cancels an appointment they have booked through HealthEngine, you will receive a notification on your Sidebar. Click the arrow to see the patients details and then remove that availability from your own appointment book so the time is free for someone else to book.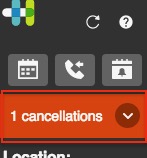 If you wish to republish that same appointment time online for someone else to book in, you can press the 'Republish Appointment' button and that available time will reappear on your Sidebar automatically, ready for someone else to book.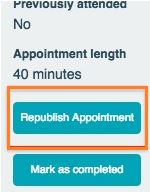 Manage Availability from Practice Admin
In the Practice Admin, you can complete similar functions as in Sidebar itself, such as creating and deleting appointments as well as setting up recurring schedules to save you administration time. To access your Practice Admin, click on the HealthEngine logo.
You can also go straight to the Manage Availability page within Practice admin by clicking on the 'Advanced Availability' button in the create availability screen.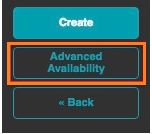 Multi Location Practices
If you have your Practice Admin login linked to multiple practice locations, you will also see a location drop down menu that allows you to move between your different locations to publish or remove availability as needed.
Please Note: Different locations are identified by the suburb of the practice, not the practice name.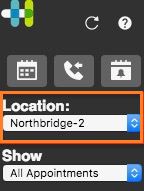 If you experience any issues or need assistance with making changes, reach out to our friendly Healthengine Support Team via phone, chat or email support@healthengine.com.au