You may now be able to request a repeat script online with your practice if they are using our scripts product. Look out for the green 'order your script online' button at the bottom of the appointments on their profile.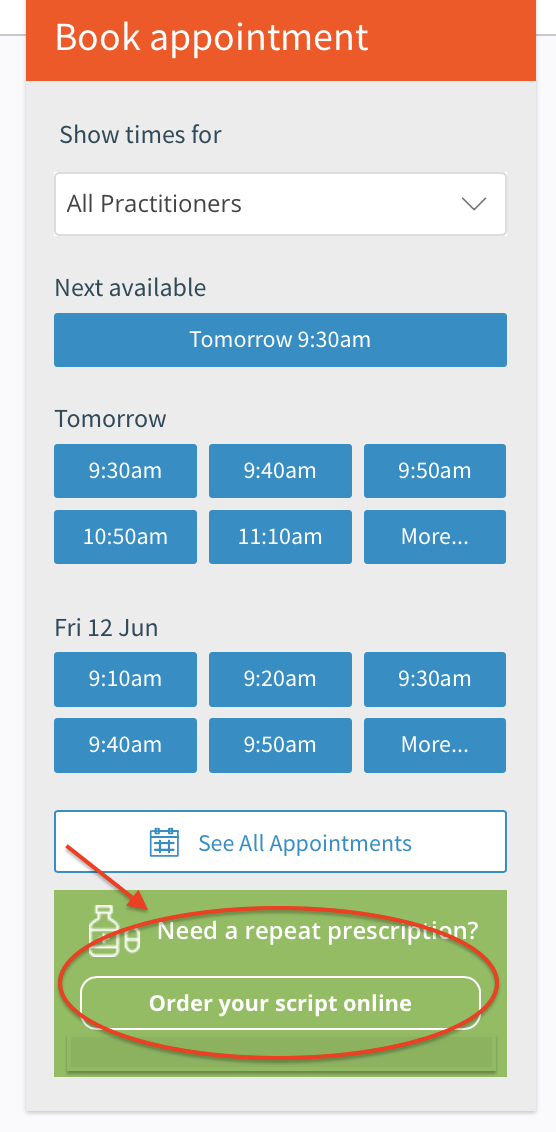 Can I request a script for someone else?
Yes you can. Answer the first question "For someone else" and fill out the rest of the form on behalf of that person.
What if I haven't been to a practice recently?
When you order your prescription online, it should be one that you take regularly, and something your doctor is aware of. It is up to your General Practice to determine how recent your last visit with them must have been. If you are taking long term medication, it is always good to go in and have regular check ups with your doctor.
Is my prescription saved with HealthEngine?
HealthEngine saves your prescription request for the purpose of providing this service to you. Your privacy is protected with the utmost of care through our privacy and data security measures. You can read more about that here. The only people who view your requests in full are; the doctor you request a prescription from, and the staff members at your General Practice who action your doctor's prescription approval or disapproval of your request.
Why do I need to pay a $2.00 service fee?
The $2.00 service fee covers HealthEngine's administration costs to provide you with a secure platform to order and pay for prescription requests online. This includes transaction fees from our payment provider, SMS charges and other administration costs.
What if my Script request gets declined?
Your General Practitioner has complete clinical discretion over whether they feel comfortable approving your request online. Sometimes, doctors may feel it best to have a consultation in person to assess your symptoms or have a discussion about the medication you request before they grant you a prescription. For the betterment of your overall health, we recommend taking your doctor's advice, and going to see them for a face to face consult if your request is declined.
How long will it take for my Script to be ready?
The amount of time it takes to process your prescription is up to your practice. There are a number of factors that might influence the time it takes for your prescription to be ready, so try to allow a few days before you need your medication. Your practice will set an indication of the number of business days to expect, which you will be able to see before you start your Scripts ordering process. When your prescription is ready, your practice will notify you via SMS.
What if my prescription isn't ready in time?
If your Script is not ready by the time you need it, get in contact directly with your GP, or seek some urgent medical assistance.
How do I pick up my Script?
The available delivery methods are set by your practice. Some practices will prefer you to pick up your prescription from their practice, while others might post prescriptions to you in the mail, or fax it directly to your specified pharmacy. You will be able to select your preferred pickup method when you order your Script. If you don't see your preferred option, it will be because the practice does not support that delivery method. When you pick up your prescription, always bring a valid proof of identification, as you will need to show this to the front desk of your GP, or at the pharmacy before you collect your medication.