Looking to add an additional user to your current list of Practice Admin logins, or change your existing login?
Easy!
Adding a new login
Just follow the below simple steps, and your new user will be set up and ready to go in no time!
1. Log into Practice Admin portal under an existing user and go to the Settings tab
2. Select 'Logins & Permissions'
Please note that currently, our Logins & Permissions page does not support emails that contain apostrophes
3. Add the new email address
4. Click 'Send invite'
5. Tick the 'Edit Users' and 'Edit Profile' permissions for the new user
Edit Users: Gives the ability to add or remove

users in Logins & Permissions

Edit Profile: Gives the ability to add, edit and remove practitioners, along with accessing and editing the practice profile details
6. Go to the mailbox of the new email address and click the link provided in the Practice Admin invite to create a new password. Important: This password link will only be valid for 3-hours.
Note: Your Practice Admin username is your email address.
7. If the new user is unable to set a password through the provided link within the 3-hour window, they can just go to https://healthengine.com.au/appointment/admin/ and press the 'Forgot your password?' link to enter the new user's email address and send a reset password link to their mailbox.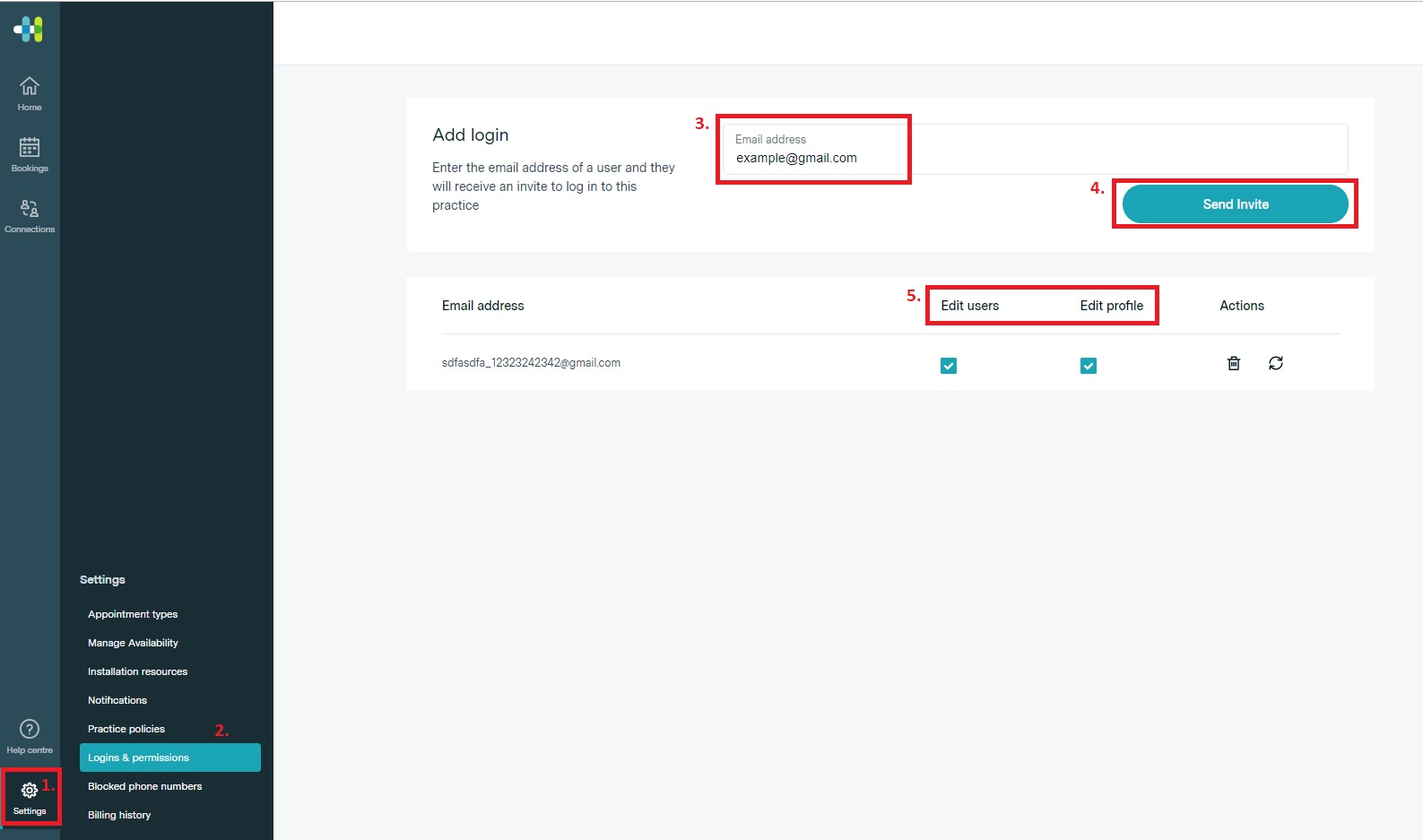 Note: If you have multiple locations on HealthEngine and you would like the new user to have access to all your locations, you must follow these steps for each location.
Changing an existing login
To change an existing login, follow the steps above to add your new login, once that is done, log in to your portal using the new login, and go back to the logins & permissions setting.
You will now be able to press the trash can next to the old email login to remove it.