Check-Ins is the updated version of Healthengine's Waiting Room feature that notifies patients of their place in the queue after they have been checked-in with your front desk.


How does Check-Ins Work?
Once you have activated Check-Ins, it will be available to all patients who have booked an appointment at your practice. When patients arrive and are marked as 'Checked In' in your Practice Management Software (PMS), HealthEngine sends an SMS or App notification to the patient welcoming them to your practice and supplies a link to follow.
When the patient clicks on this link, it will confirm their presence and details with them and then patient's will have the ability to see their live place in the queue and how many patients are ahead of them.
Who is Eligible for Check-Ins?
Check-Ins is part of our Practice Efficiency Suite subscription, however to be eligible to activate Check-Ins your practice must be actively using our Online Booking System or Patient Connect and have either Best Practice or Medical Director/Pracsoft PMS.
How to Activate Check-Ins
Check-Ins can fortunately be self-activated in Practice Admin! To do so, navigate to 'Bookings' and select 'Check-Ins' then click the 'Activate Check-Ins' button to start the self-serve process.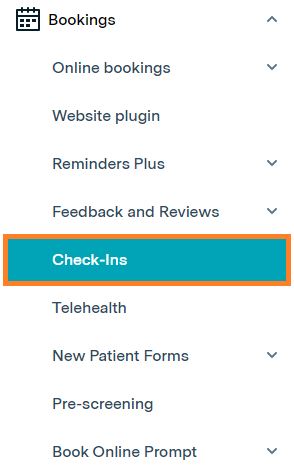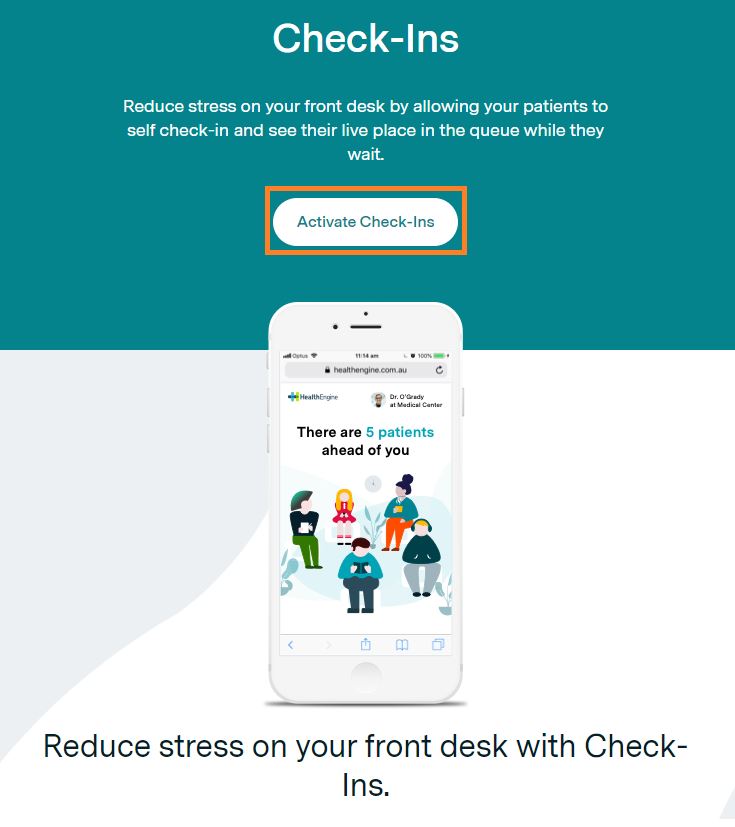 You'll be greeted with a summary page that will outline what HealthEngine will do once this feature is setup and activated. You will also see the estimate time it takes to complete the self serve process. When ready, click the 'Let's go' button!

You'll need to provide consent to activate Check-Ins - this page will provide you with additional information relevant to the services prior to activation.
Once you have read and understood the important information, please provide your full name and tick the authorisation check box. Then click the 'Continue' button which will authorise the activation of the service on behalf of your practice.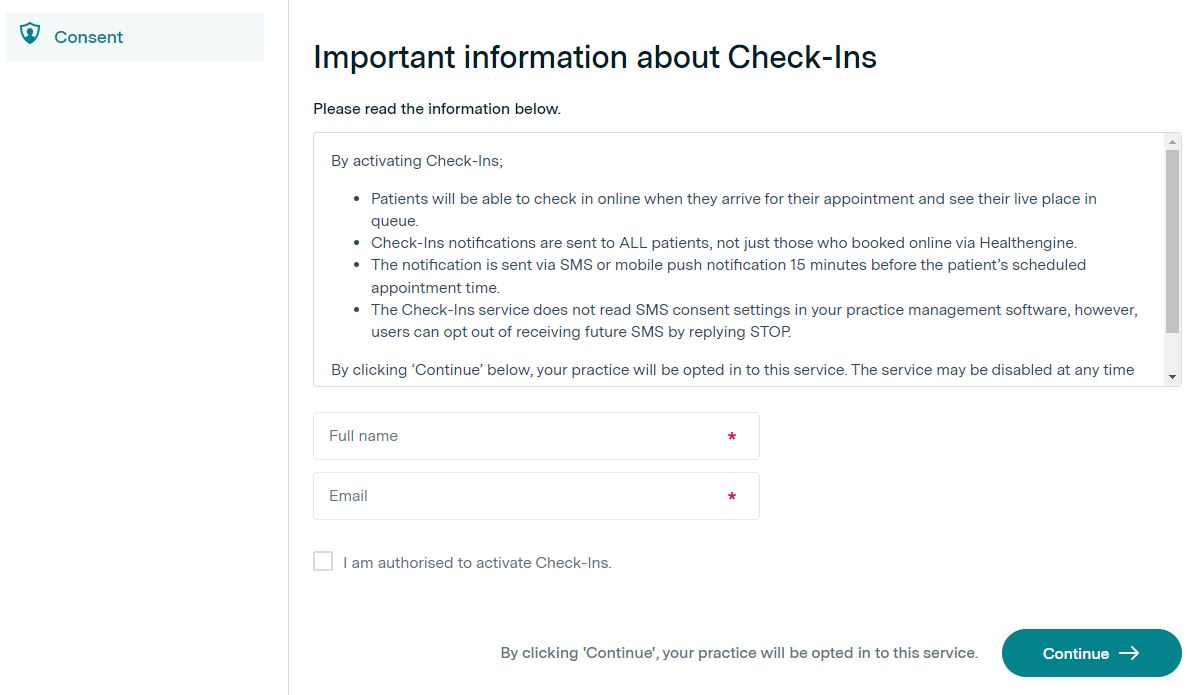 You will then be provided with a confirmation that Check-Ins is now setup on your Healthengine account - This page will also show you an overview of your active HealthEngine features and/or services!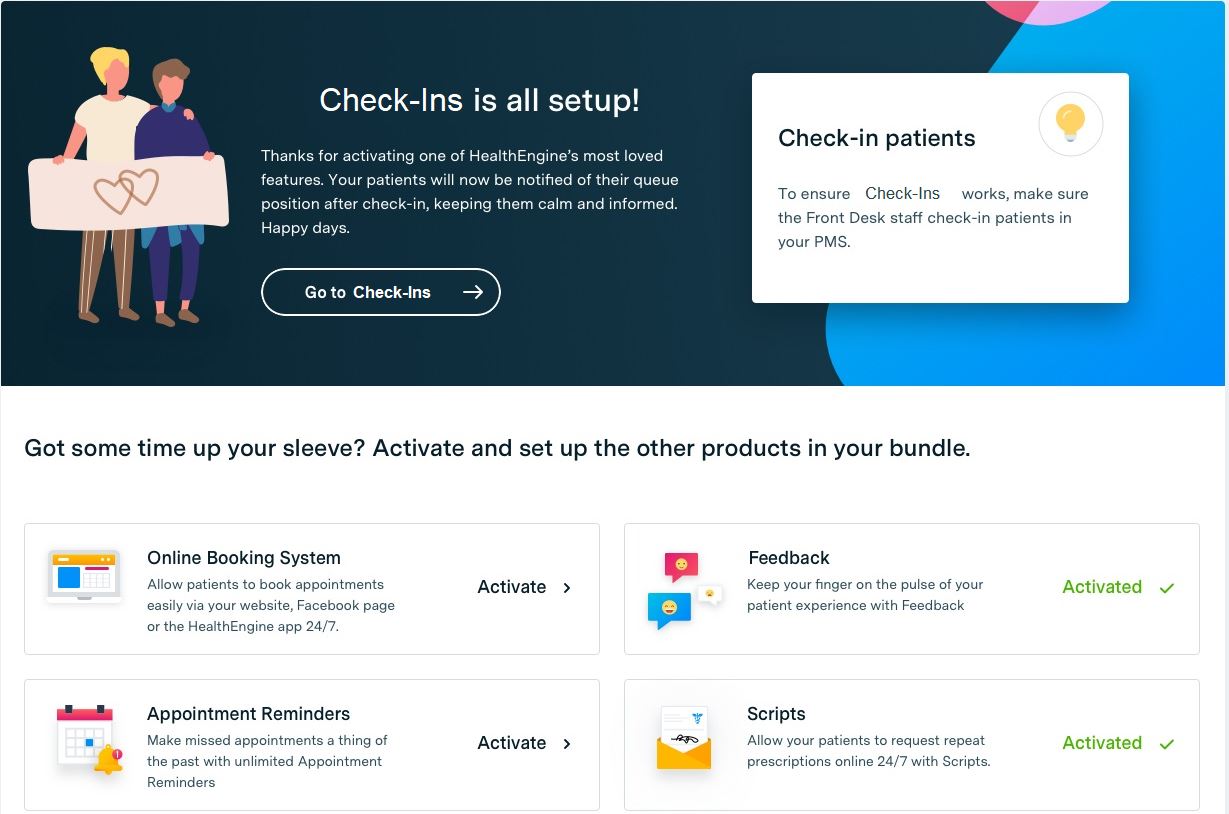 To find out more about Check-Ins, check out our Help Centre article, Check-Ins FAQs.
If you are interested in Check-Ins but don't have the necessary subscription with HealthEngine, please reach out to your Customer Success Manager or our friendly Customer Support Team via phone, chat or email support@healthengine.com.au