The following video takes you through each of the products that make up HealthEngine's Practice Efficiency Suite:
HealthEngine Practice Efficiency Suite is an all-in-one patient engagement solution designed to help improve your General Practice efficiency and patient experience.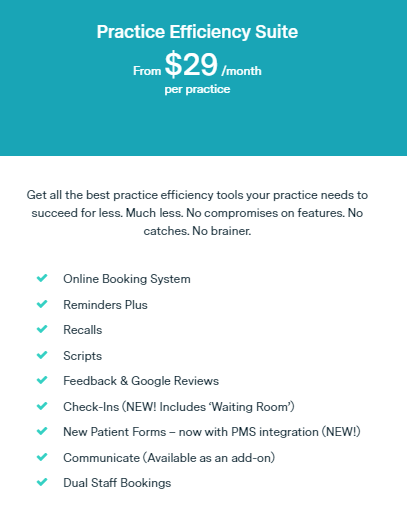 Online Booking System
Allow patients to book appointments easily via your website, Facebook page or the HealthEngine app 24/7. With over 50% of HealthEngine online bookings made after 9 – 5 business hours, offer your patients the convenience to book healthcare appointments well after you've closed.
Make missed appointments a thing of the past with unlimited Appointment Reminders – the fast, easy way to no more 'did not attends'. Send an SMS, email or in-app notification to all your patients – regardless of how they booked.
Free up more time for your front desk staff with quick and easy bulk patient recalls via sms, letter or phone call.
Allow your patients to request repeat prescriptions online 24/7 with Scripts, saving them time while freeing up your front desk and improving efficiency. Your practice sets pricing, response times, delivery options and manages prescription approvals, while we take care of secure payments and keeping your patients up to date about their script request.
Reduces stress on your front desk be allowing your patients to self check-in if their appointment and see their live place in the queue while they wait for their appointment.
Keep your finger on the pulse of your patient experience with Feedback – our patient survey and feedback management tool. Send short, easy to complete surveys to all your patients after their appointment for real-time actionable feedback
Communicate allows you to send targeted messages informing patients of important practice updates. Ensure your patients stay up-to-date with the right information.
Capture your patient's information electronically prior to their appointment, saving you time, and improving the overall experience for your patients.
Enable Dual Staff Bookings for appointments that require two staff members (for example a doctor and a nurse) and reduce workload for your team.