If you're looking for a way to measure your ROI (Return on investment) for every new patient fee paid to HealthEngine, then the Value Insights report is the feature for you!
The Insight report will monitor and show all of the new patients we charge your practice over the lifetime of your account, their return rate and revenue generated.
Your practice attracts loyal, long term patients. With the average HealthEngine patient making 5.3 appointments per year - incurring only a single new patient connection fee - the value comes from the multiple follow-up visits you'll get in the months and years to come.
We provide access to our Insights report through the Practice Admin portal (which can be enabled at any time after switching on our Patient Connect Plus advertising product).
Presenting data direct from your PMS, we analyse the return appointments from new patients who found you on the HealthEngine Network.
Easy, Private, and Secure

No personal health information is shared on Patient Value Insights. We simply use a PMS integration to calculate a patient's return rate and the amount you have charged them.
How does Value Insights work?
Connect with your PMS

We deepen our connection with your Practice Management System: Don't worry, no clinical information is read.

Gather and analyse

We discover new patients you've received from HealthEngine and analyse their return rate and amount invoiced.

Show you insights

We easily explain the return on investment you're getting from HealthEngine and provide you with simple access to download the data.
Is my practice eligible for Value Insights?
If you are an integrated practice that uses Best Practice or Medical Director/ Pracsoft, you are eligible for Value Insights.
How do I activate Value Insights for my practice?
Insights can be self-activated in your Practice Admin portal.
Once logged into your PracticeAdmin portal, click on the 'Connections' tab
Select the 'Patient Connect bookings' section
Go to 'Insights'


Click on 'Activate Value Insights' and follow the prompts

This report





Once the self-activation is complete and the data has been fetched from your PMS you will be presented with the below page summary.

From here you can:

Export to CSV: this will download a CSV file of the data
Filter 'Show patient value from': Choose specific date ranges to view the return from new patients who booked with you via the HealthEngine Network during that time
Update Insights: Requests an updated Insights report, which can take up to 24-hours to populate.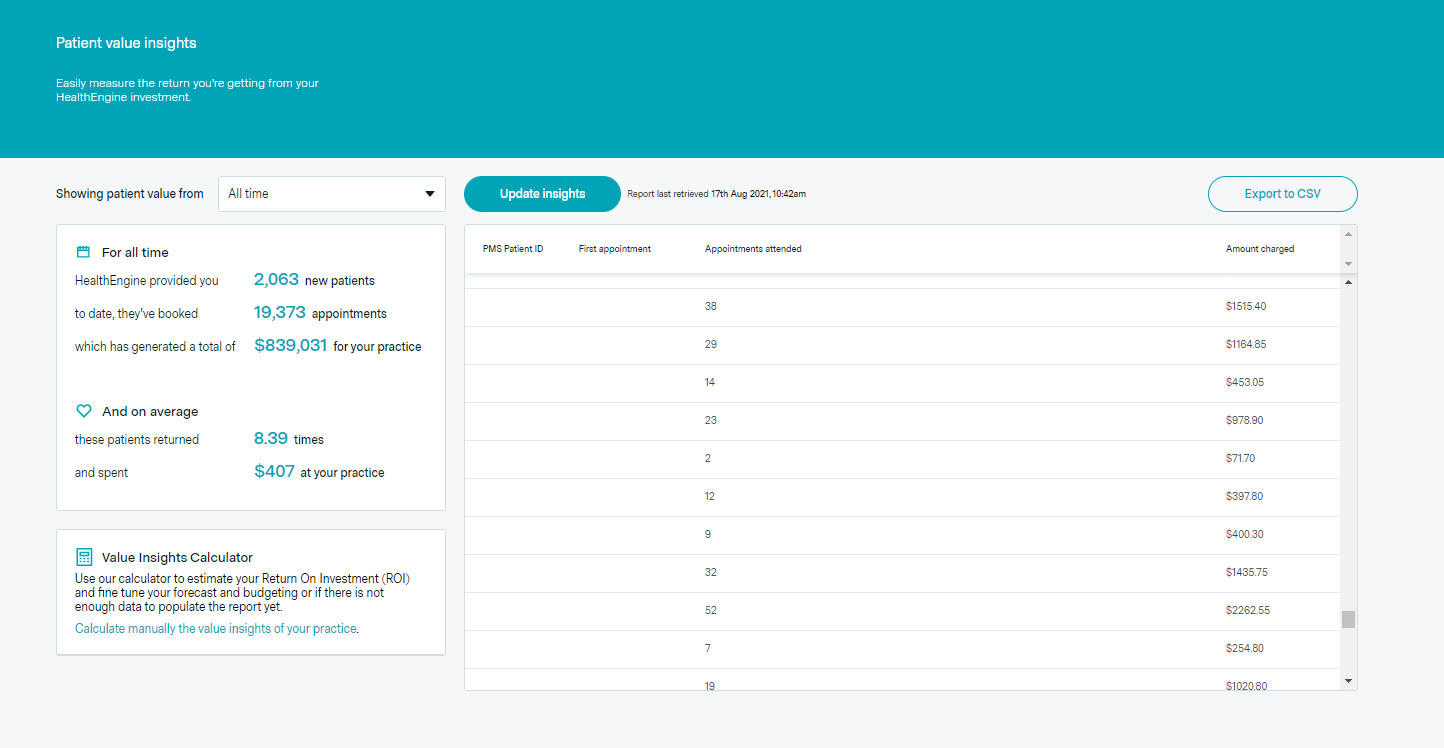 Troubleshooting
If you cannot see the Value Insights report available within your Practice Admin after 24-hours from activating this feature, please contact our Customer Success team through Live Chat via the 'Help' button at the bottom right-hand corner of your Practice Admin portal.
Our Live Chat opening hours are Monday-Friday from 7am to 4pm AWST.