There are two different ways you can measure and monitor your conversion rate; number of bookings as a % of profile views and number of bookings out of total # published appointments. Below we will offer tips and advice on how to improve these measures.
You can monitor the number of views your profile has had using the statistics on your practice admin homepage as shown.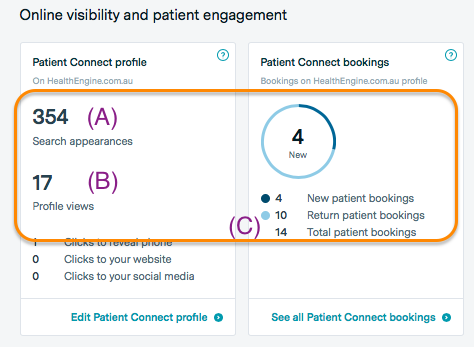 In the example above we can see that this practice has A) appeared in 354 searches this month, B) had 17 people view their profile, and C) received 14 bookings from those views. This practice has a conversion rate as a percentage of bookings per profile views of around 82%.
There are a few things that can contribute to a good conversion rate, click on the links below for more information.
Don't be afraid to publish all your availability.
Some practices choose not to publish all their availability as they are afraid patients will think that their open books is a refection of their abilities. We find this is not the case, and that patient behaviour shows they are looking for an available time that suits their own schedule and lifestyle. If practices are intentionally hiding this availability out of fear, then patients may simply look for another practice that is available at that time. It is best that you offer all times to your patients so you are giving them the flexibility and convenience of booking a time that suits them.
If you are using non integrated software and are on our sidebar and calendar, you can click here for more information on publishing.
The quality of your profile description.
Making sure that you are giving your patients all the information they need to make a decision on visiting your practice from looking at your profile. This includes a list of services that you offer and reassurance that you are the practice to take care of their needs. You should also include complete practitioner profiles to a high quality, including descriptions on what sets those practitioners apart, what languages they might speak, qualifications and experience. These practitioner profiles are a great place to include a bit about the practitioners personality, and why patents will feel comfortable with them.
Click here to learn how to manage your practice profile.
Click here to learn how to manage your practitioner profiles.
Clear fees and pricing.
If patients know up front what fees they will be charged they can be certain they will be able to afford the services they require and will have less hesitation making a booking commitment. Make sure you also include the payment methods accepted and whether or not you offer any type of payment plan. These additional details can be added to your profile description.
Click here for more information on editing your fees.
Clear directions and parking.
As you will be reaching new patients that aren't familiar with your practice or location, it's important to include clear instructions on directions and parking. If your practice is easily accessible via a major highway, there is a bus stop right out the front, or you are within walking distance of a train station, this is all important information that can help patients feel confident in being able to easily reach your practice even if they have never been in the area before.
Quality Images
Some people respond better to visuals. Whilst it is helpful to inform patients of your modern state of the art facilities, being able to see actual images of the practice, waiting room, and consulting rooms can be incredibly persuasive in building patient interest. People with children will also appreciate images of any childrens play areas you might have so they can be reassured their kids will be easily distracted throughout the visit.
Other images of use include the exterior of the practice, so people know what to look for when they arrive, and any parking available so they can be reassured that parking will not be a problem.
Consider your search appearance
Another statistic to consider is your search appearance, illustrated by letter A in the image above. One way practices can increase that number is by publishing more appointments. You only appear in the default searches if you have available appointments within the search parameters, so don't be shy! The rate of profile views out of search appearances can be increased through the use of our featured listing products to gain more visibility, even across suburbs outside your search radius, and also by improving the appearance of your practice in the search results.
In search results patients will generally see the first image in your image gallery, your next available appointments, and your rating. It is a good idea to ensure your first gallery image is clear and represents the main appeal of your practice.
Listen to feedback
Ratings can be included by activating the feedback product in your practice admin portal. Patients are drawn to practices with good ratings as they want to be as satisfied as those patients that left the rating. You will also be able to gather valuable feedback that can be used to improve your services and find out what your patients like and what can be improved on to receive a higher rating and therefore better reputation amongst patients.
Learn more about the Feedback product.
Practice Policies that are inviting.
The last thing worth mentioning is the booking form itself. Within the booking form patients will see your practice policy, along with the types of appointments you offer. The practice policy is used for cancellation policies and other important information so it can sometimes appear quite aggressive. It's good to remember that patients will be reading the policy at a time when they are unwell or seeking assistance and you want to be as friendly, welcoming and reassuring as possible whilst still communicating any important information. It is counterproductive to have a glowing welcoming profile and then a confrontational and robotic policy when they go to book.
Appointment types anyone can understand.
The appointment types are the last thing the patient will see before booking. Ensure that they are easy for your patients to understand, and avoid the use of abbreviations or medical or insurance lingo. The patient may not have a complete understanding of what terms you use and with no human interaction to explain the options they are relying purely on the appointment type names you use to determine what they need to select. Don't over complicate it.
How to edit your appointment types.