If you would like patients to be able to send you enquiries from your profile page, we have now made it even easier to read and manage your patient enquiries.
What are Patient Enquiries?
This year we have introduced Patient Enquiries to the HealthEngine practice admin portal. This gives patients the ability to reach out to practices and ask questions without having to pick up the phone. This keeps your phone lines free for other business, and you can reply to the enquiries in your own time, without the pressure of having all the answers on hand! It's great for building a rapport with your patients and if you need to send them any important information they may request, you will have all the contact details you need.
You may have already had the patient enquiries active for your practice and received them via email, but you can now read them directly from your practice admin portal.
Do I have it active?
Unsure if you have patient enquiries active? An easy way to check is view your profile. If you see the blue contact button below your practice information - they are active.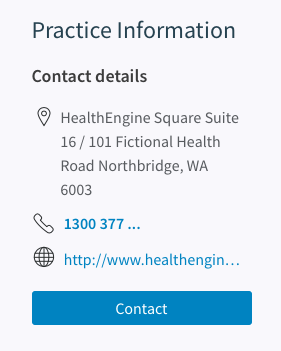 Where do I read them?
To view your patient enquiries in your practice admin portal, simply click on the connections button on your practice admin menu, and then enquiries.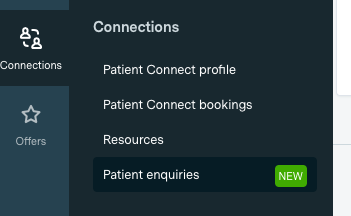 You will receive a list of patient enquiries that include the following details:
Date submitted
First Name
Last Name
Email
Phone number
Reason
Message

I don't have them, how can I activate them?
If you don't yet have the practice enquiries active, simply send an email to our support team asking to activate them, also include the email address you would like them to go to. We will set it up for you on our end and you will then be able to access the enquiries in your portal, or via that email address, when they come through.
We hope you enjoy the new feature and please leave any further suggestions here.