Communicate is a feature that allows your practice to send patients important, service-related information - such as the availability of telehealth appointments and flu vaccines - via bulk SMS!
Using Communicate, you can craft your own custom message or choose from one of the in-built message templates to send to patients.


Page Contents
Accessing Communicate
Those with the Online Booking System or Practice Efficiency Suite (Essentials or Premium) subscription will have access to the Communicate feature - you can find the Communicate feature in Practice Admin under 'Connections' and then select 'Communicate'. To activate this feature, simply select 'Activate Communicate' as seen in the images below: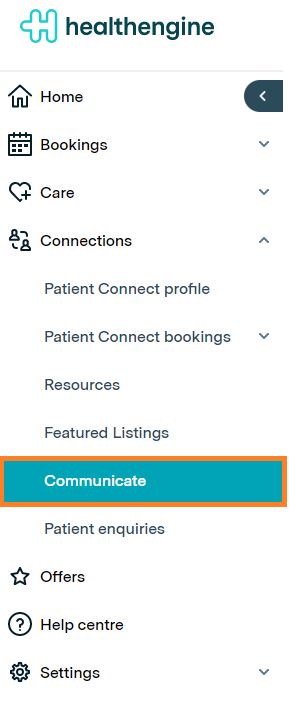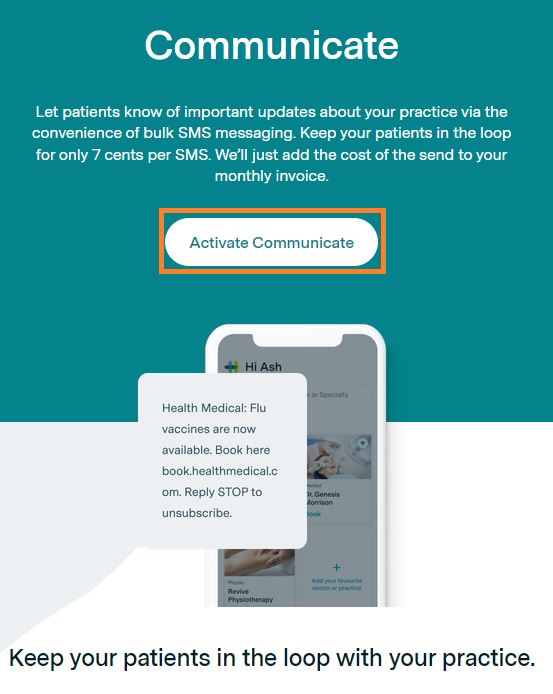 If you do not have these subscriptions but would like the Communicate feature, please reach out to your Customer Success Manager who will help arrange this for you.


Creating your Message
To get started with Communicate, click on the 'Create a message' button on the Communicate page.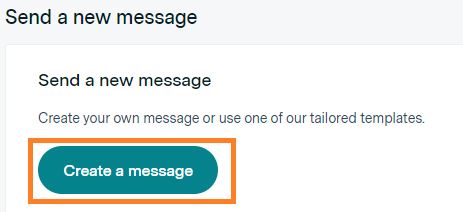 From here, you can select a message template from our in-built options or you can craft a custom message! To learn more about our template message options, check out our Help Centre article, Communicate Template Options.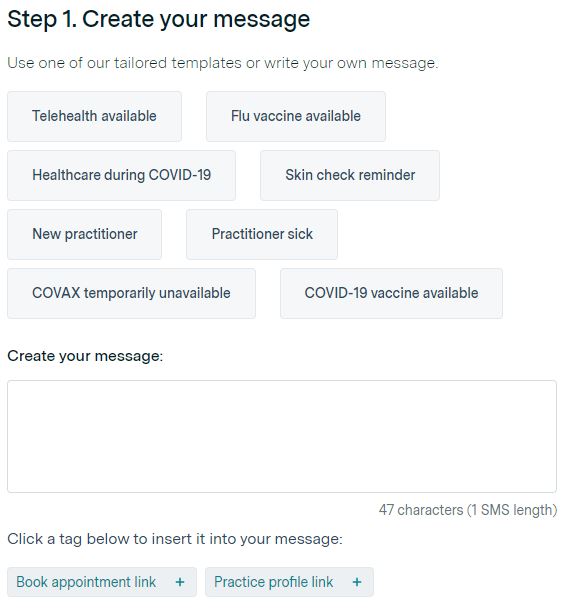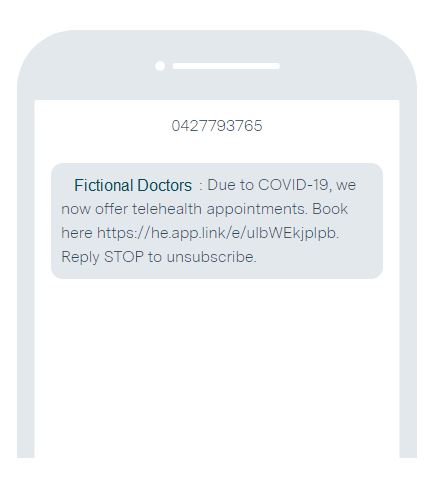 When writing your message, please consider that there is a limit of 464 characters per Communicate message - this is the equivalent of 3x the standard SMS.
Please Note: When crafting a custom message, HealthEngine automatically includes your practice's name at the start of the message and the opt-out option at the end of the message. These parts of the message cannot be customised.
For tips and best practices on creating a custom message in Communicate, including guidance on how to comply with the Spam Act 2003 (Cth), please view our Help Centre article, Communicate Custom Messages - Tips and Best Practice
Uploading a CSV of Patient Mobile Numbers
Once you've crafted your message, you will be able to upload a CSV file of all the mobile numbers of the patients to whom you would like to send the selected message. If available, we recommend obtaining these numbers by doing a CSV export from your Practice Management Software (PMS).
For guidance on how to do this, select one of the Help Centre articles below that aligns with your practice software:
Please Note: There are certain formatting requirements for these mobile numbers; they must be in one of the formats listed below:
+61 4XX XXX XXX
04XXXXXXXX
04XX XXX XXX.
Once you've uploaded the CSV, we will automatically exclude any duplicates or incorrectly formatted numbers from the send so that you won't be charged for these.

Reviewing the Cost Estimate
Following this, you will see an estimate of the cost to send the bulk SMS at the bottom of the page. These costs are based on a standard rate of 7c per SMS.
As an example, if you were sending a message of fewer than 160 characters to 500 patients, your cost estimate would be 1 x 500 x 0.07 = $35.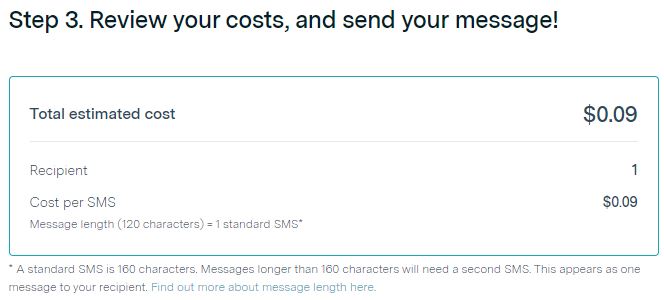 All charges from sends in Communicate will be added to your next monthly invoice following the send.


Submitting a Send
If you are happy with the estimated cost, you can now select the confirmation box and submit your send!

Once you've submitted a send request, a confirmation email summarising the details of the send will be sent to the Billing Contact and/or Primary Contact recorded for your practice as well as the email address of the logged-in user who initiated the send.
Please Note: An Acceptable Use Policy applies to this feature and you must ensure that you are not in breach of this policy or your Communicate service may be terminated.
To learn more, read our Help Centre article, Acceptable Use Policy for Communicate.
Reviewing Past Sends
To review your past sends, simply navigate to your Communicate page and you will see a table summarising your past sends, including the following information:
Date and time of send
Template used
Number of recipients
Estimated cost
Status of each send
For more details on a particular send, click on the eye icon under the 'Details' column at the end.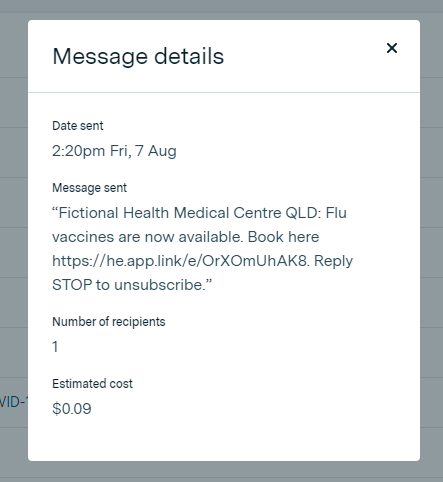 If you experience any issues or need assistance with making changes, reach out to our friendly Healthengine Support Team via phone, chat or email support@healthengine.com.au