Fortunately, booking an appointment on our Healthengine website is easy and quick to do in case you're ever in a hurry!
First navigate to our Healthengine Homepage - if you have an account you can log in using the link in the top right hand corner of the page.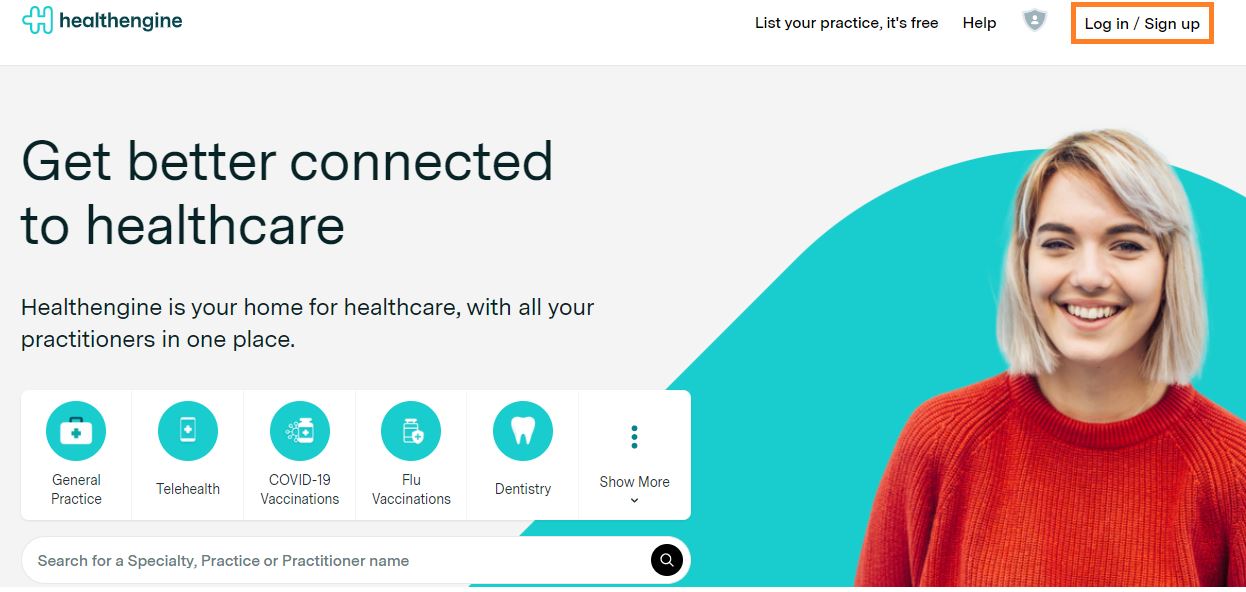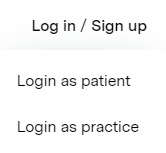 After this, select a specialty from the options shown as seen in the example below - you can also click 'See More' to view additional specialties you can book on Healthengine or free type in the search bar.

You can then type your suburb into the search bar to narrow search results to your location.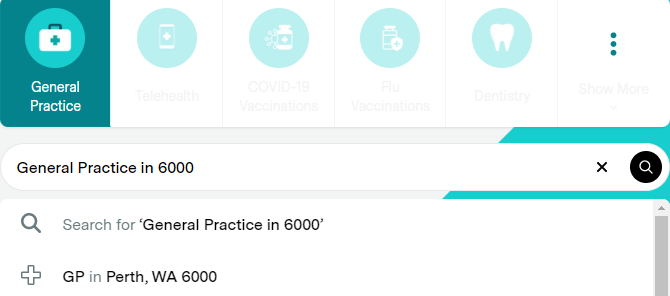 The Search Results Page
Once you hit 'Enter' on your keyboard or the search button to the right, you'll be taken to a page of search results listing any clinics that match your search criteria for that specialty and suburb.
You can also apply filters at the top of the search results page to narrow these results further. There may be some filters already selected depending on the specialty you have selected - for example, GP searches will show clinics with appointments available for you to 'Book Online'. This means you will only see clinics that have availability published for today.
You can adjust these filters to your preference!

The search results will display below where you will see any Featured Practices at the top and then below they will be sorted by the search criteria you have selected and include considerations such as availability and distance from your search location.
You can click on a clinic's name to view their profile or you can click the next available appointment time to book that time. Alternatively, you can click the 'All Availabilities' button for a practice to view other times they have available.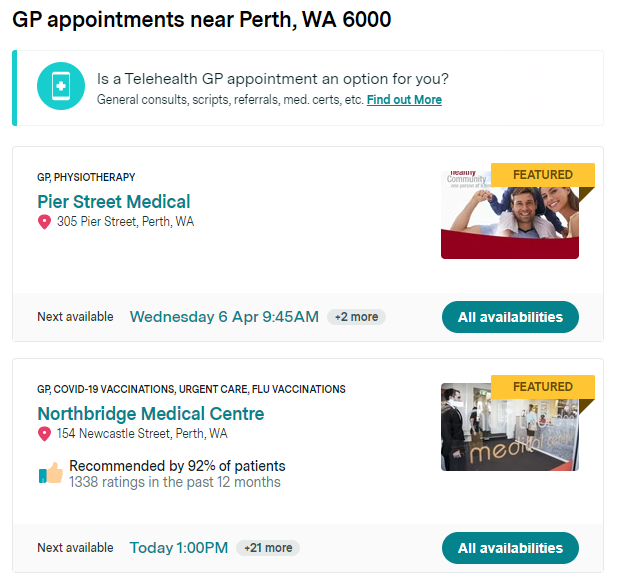 Before choosing an appointment time, you might want to specify your practitioner. You can do this on the practices profile or on the 'All Availabilities' screen using the practitioner drop down above the appointment times.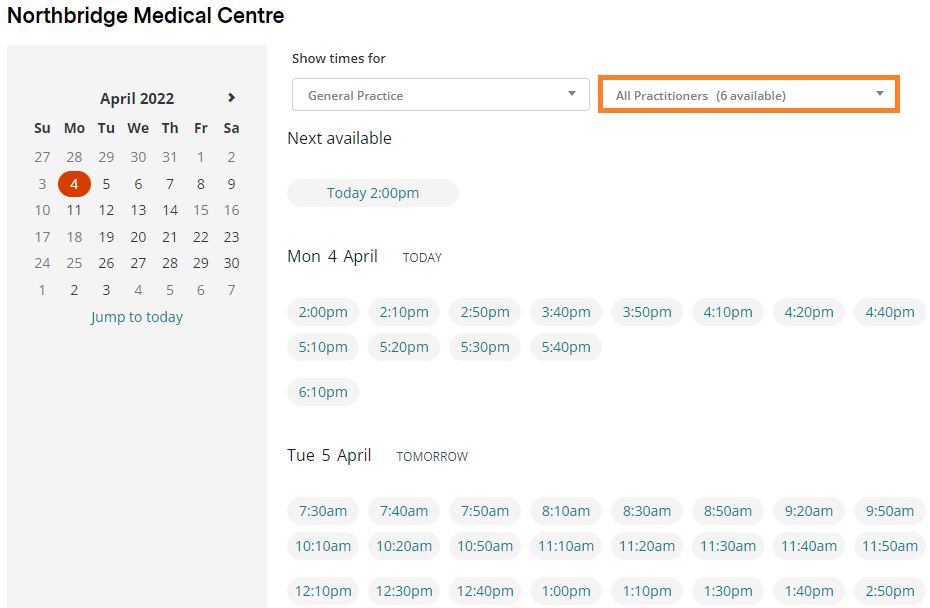 You can also use the first drop down box to change the specialty if your chosen clinic offers multiple specialties!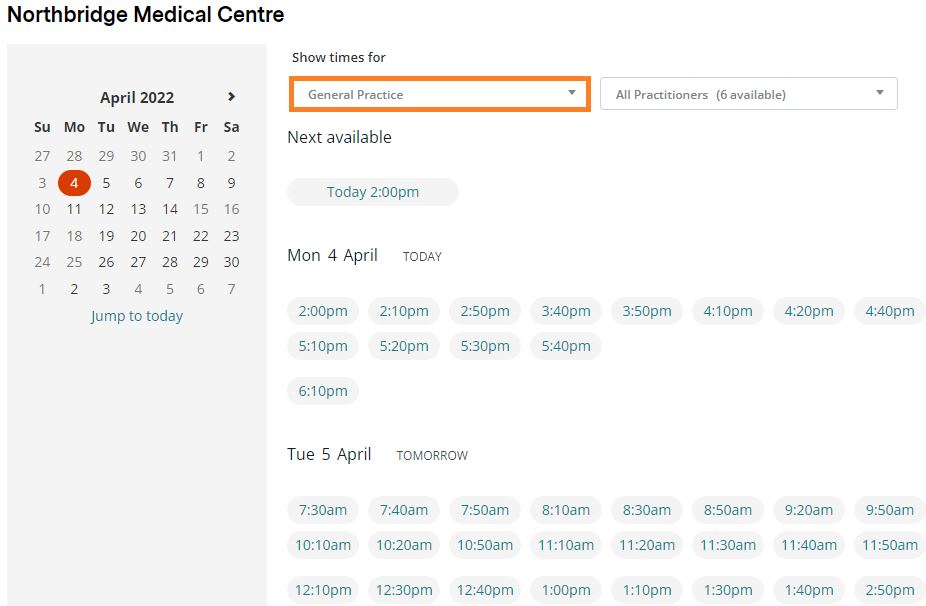 Please Note: If you do not specify a practitioner then you are viewing all practitioners availabilities and may choose a time that corresponds to a doctor other than the one you intend to book.
If you only want to see a specific practitioner, you must select the practitioner first so that you are only viewing and choosing from that practitioners availability.
The Booking Form
Once you select an appointment time you will be taken to the Healthengine Booking Form where you can begin booking your appointment! The Booking Form begins with any policies this practice may have added to inform you of policies regarding Billing or New Patient Policies before booking.
To continue with the Booking Form, simply select 'Continue'.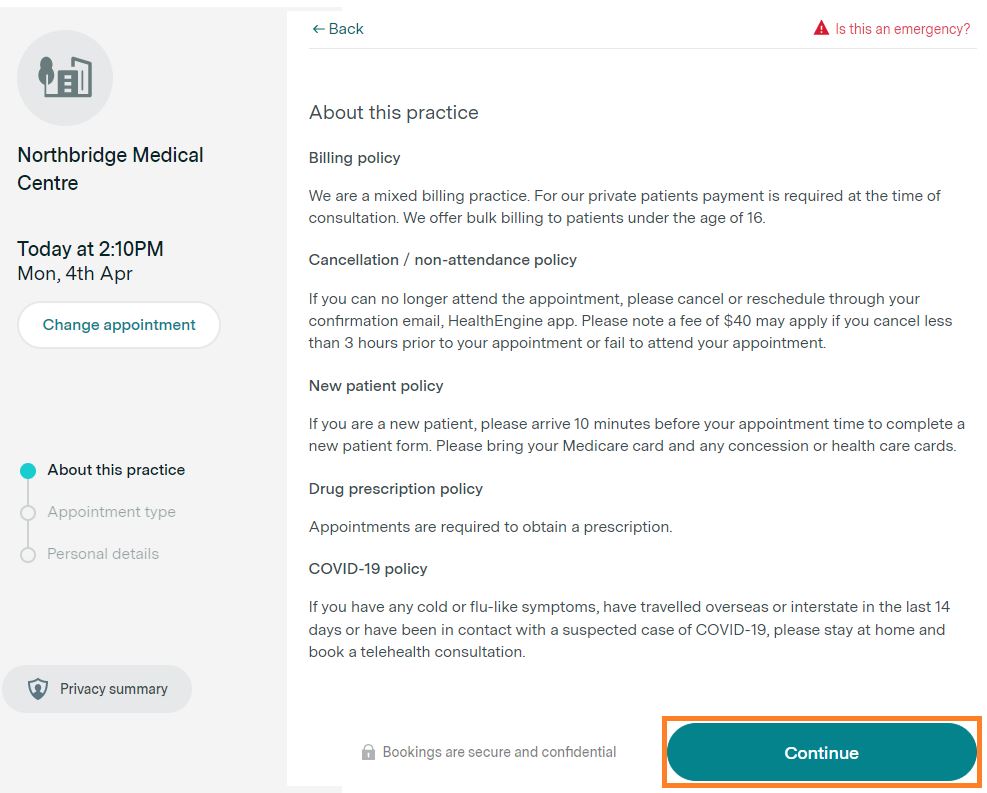 Following this, you will get asked a series of questions that determine whether you are new to that practice as well as what type of appointment you are after that the practice can offer.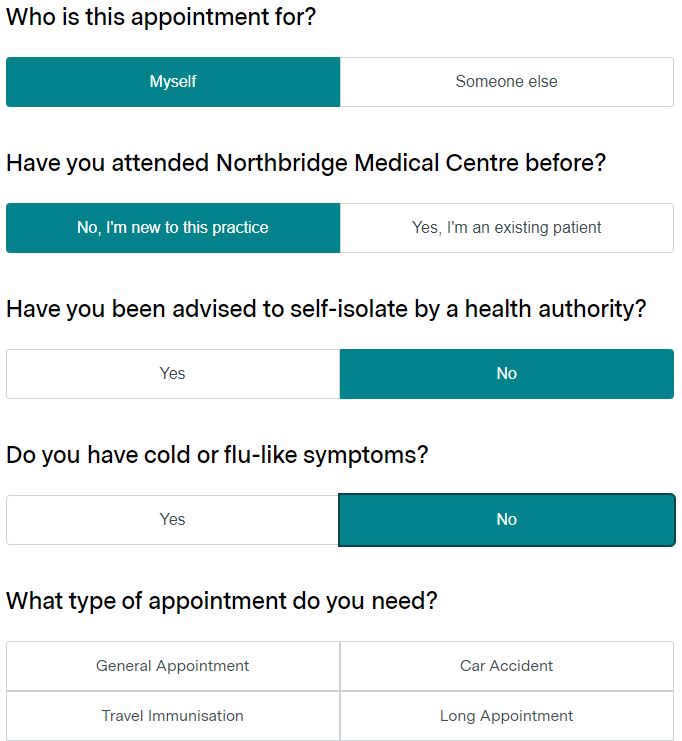 Please Note: the appointment types listed for a practice are the appointment types they have set up on their Healthengine Profile for patients to book online. These appointment types can vary depending on whether you are a new or existing patient and what they like would to use their online bookings for.
If there are types you would like to see added, please communicate that to your practice directly, as they have access to update these appointment types at any time.
After choosing an appointment type, simply fill in your details and towards the bottom of the page, select if you'd like to join our mailing list before selecting 'Book Appointment'.
Please Note: If you have an account with Healthengine and are logged in at the time of booking, the information from your account will auto-populate into the Booking Form.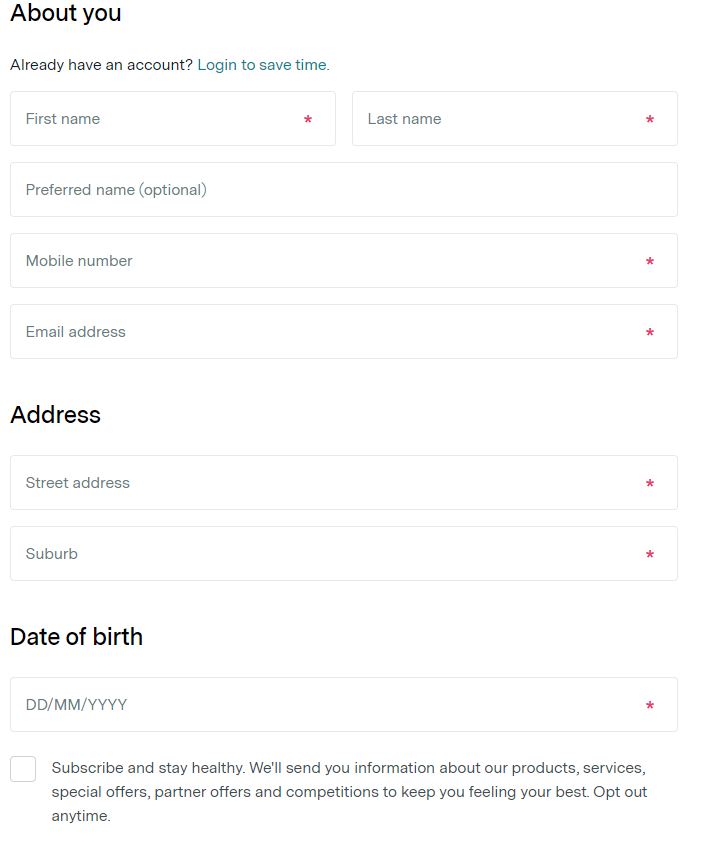 Completing your Booking Form
Once you complete the Booking Form you'll be taken to a booking confirmation page that allows you to cancel or reschedule at the bottom of the page if needed and if the practice permits it. This page can be re-accessed from a link in your Booking Confirmation email that you will also receive at this time.
If the practice has our New Patient Forms product, you will also see the option to fill this form out on your booking confirmation page or receive a link in your Booking Confirmation email.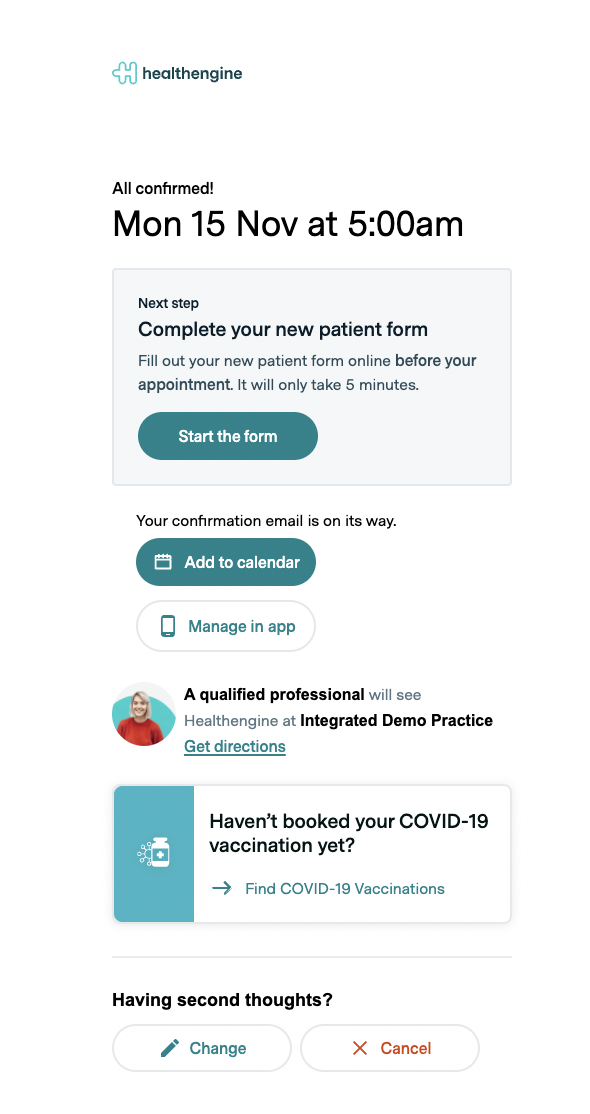 There will also be a link to add your booking to a calendar of your choice and provide the option to download our Healthengine app!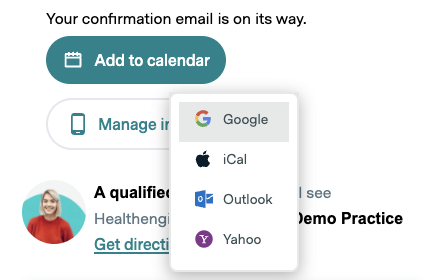 If you were logged in while making this booking, you will see this new appointment listed in your upcoming bookings.
If you have any further questions regarding this process, please reach out to our friendly Customer Support Team via email patients@healthengine.com.au