In accordance with recent updates from the Department of Health, the COVID-19 Eligibility Checker is to be suspended from use with HealthEngine. This decision is a result of the simplification of the eligibility requirements that existed during the early phase rollouts of the COVID-19 Vaccinations.


Due to this change, HealthEngine will be turning off the Eligibility Checker for practices on the 18th of November, 2021.
We at HealthEngine understand the concern that some patients may arrive for their vaccinations without a Medicare card and so, we will be adding the following pop-up notification to all appointment types under the COVID-19 specialty.
Pop-up notification example: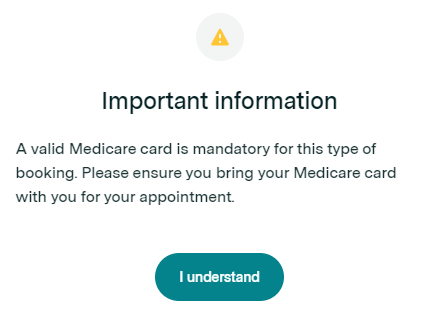 If you'd like to know more about this change, reach out to our friendly HealthEngine Support Team via phone, chat or email support@healthengine.com.au