BOP or the Booking Online Prompt is a redesigned Healthengine communication sent to your patients that can help reduce admin time at your front desk!


What is BOP?
BOP is Healthengine's booking online prompt - a free SMS sent to patients who have only ever made a booking with your practice either via phone or in-person rather than online through Healthengine. The SMS examples, as seen below, encourage patients to download our Healthengine app to book online faster with your practice in the future!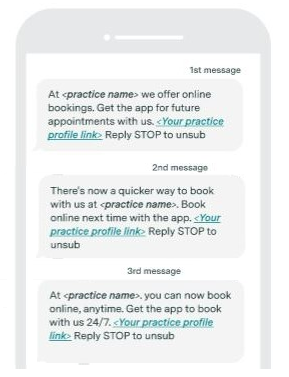 The SMS directs patient's to your Healthengine profile and also encourages them to favourite your practice as part of their My Care Team. Not only will this help reduce inbound phone calls long-term for your practice but it will also promote existing patients to return!
To find out more about My Care Team, check out our Healthengine Help Centre article: My Care Team.
If you'd like to know more about BOP, reach out to your friendly Customer Success Manager or our Healthengine Support Team on support@healthengine.com.au