Hi there and thank you for activating your account with Healthengine - we're so excited to have you on board!
To help set up your account, we've laid out some groundwork that you can begin to discover your Healthengine with.


How to Log In
To access your Practice Admin login page follow the link here or you can log in via our HealthEngine Homepage at https://healthengine.com.au/ and click one of the two options displayed below:
Please keep in mind that we have two separate login portals - one for patients and one for practices. If you are experiencing difficulty logging into your Practice Admin, double-check to make sure you're using the practice login portal.
If you're struggling to log in, check out our article here - How to Log into your Practice Admin
Your Practice Admin Walkthrough
Your Healthengine Practice Admin is your account profile, so it's important to get to know it as best you can since you'll be using this a lot!

Healthengine works by publishing the appointments you create in a schedule onto your store's website. From your Practice Admin, you can create schedules, manage/view your online bookings, add additional logins and view pre-screening forms along with various other features.
When you first sign in to your Practice Admin, you'll be taken to the Home Screen page as seen below: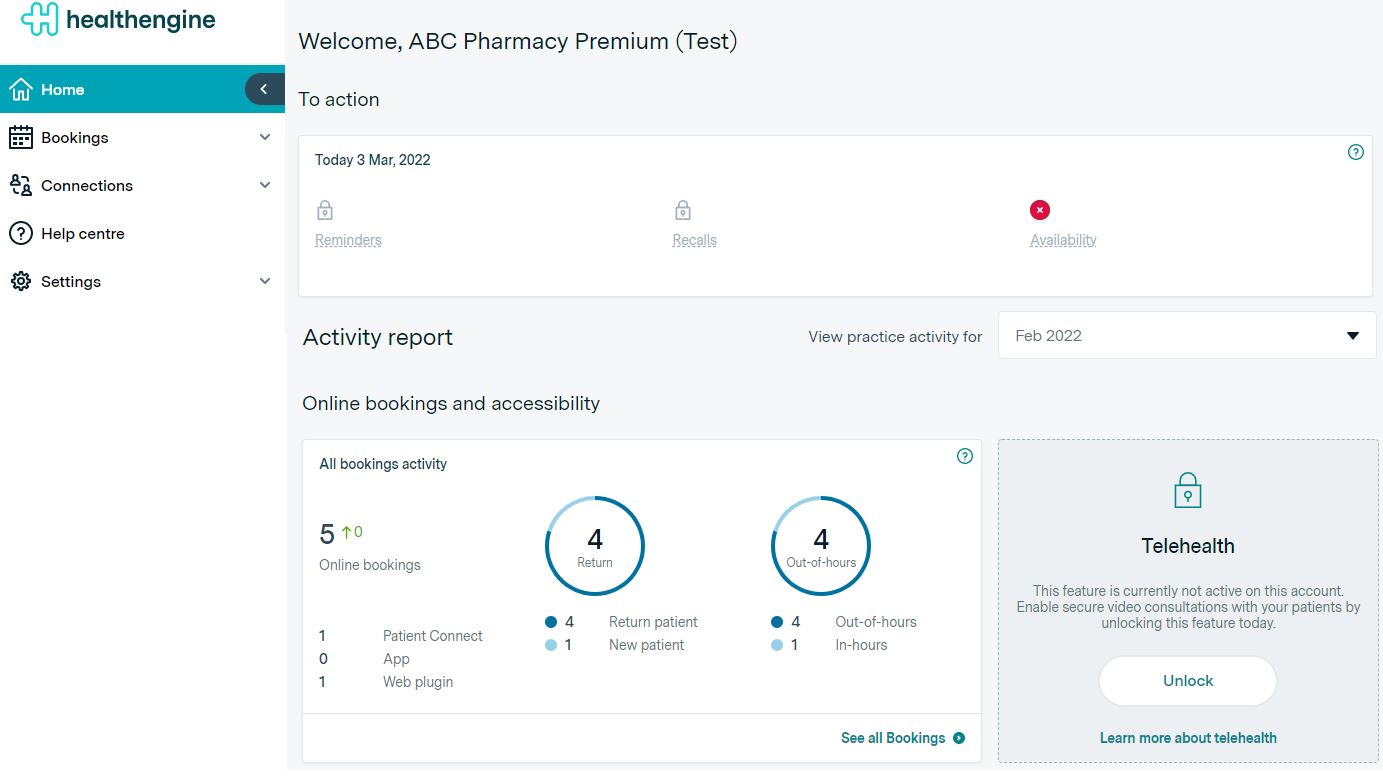 You won't use this page a lot but it's a good place to check in on your activity reports.
On the left-hand side of this Home Page, you'll see a list of tabs as seen below - each tab gives you access to a new feature of Healthengine that your store can use to monitor, manage and create bookings from!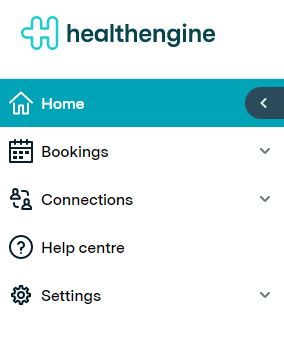 Bookings
The bookings tab of your Practice Admin will allow you to review/manage your existing bookings, re-book appointments for existing patients and export run sheets. To view this page, simply navigate to Bookings then click on 'Online Bookings'.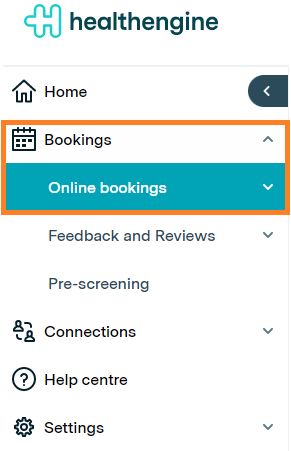 This will show you a new page where you can view your booking history that your store or customers have booked in for as well as manage and export Run Sheets according to set filters - it's a very useful tool should you need to find appointments quickly!

To find out more about how Healthengine's Booking Feature works, check out some of our Healthengine Help Centre articles below!
In this Bookings section, you'll also see a tab titled 'Pre-screening', this is a great way to keep track of/ see which patients have filled out their COVID-19 Vaccination Pre-screening Forms which you can find out more about in our Help Centre article, Pre-screening forms.
If you have Medadvisor integration with us, the Pre-screening Form will also be seen in your Plus One - You can find out more about this in the, How to View Today's Bookings and record a service from Health Engine's Patient Appointment Management System PAMS article.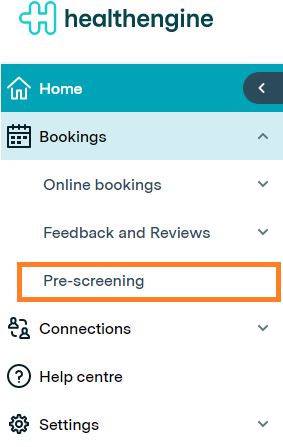 Settings
The Settings menu will give you access to create and manage schedules as well as decide which appointment types and services you'd like to appear on your store's website. With our 'Appointment Types' and 'Manage Availability' features, the control is in your hands in an easy and manageable way!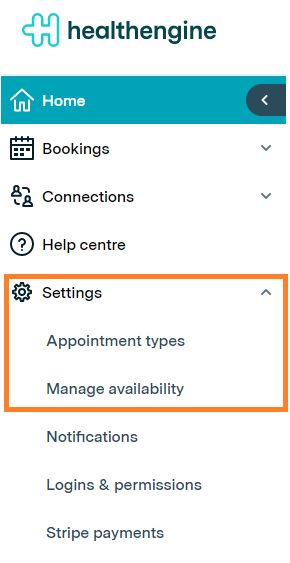 You can begin your set-up journey now by reviewing your list of services and then navigating to 'Settings' and clicking on 'Appointment Types'. From here, simply toggle on any appointment types that you would like to offer online bookings for at your store (you can toggle this off at any time).
You can find a detailed guide on how to do this in our Healthengine Help Centre article, Managing your Services and Appointment Types.
Manage Availability is where you'll find our Calendar - a feature that will allow you to create and manage your day-to-day bookings in the form of a schedule!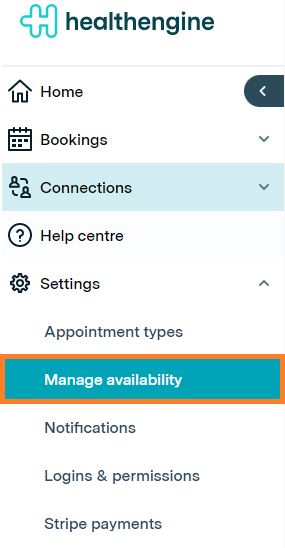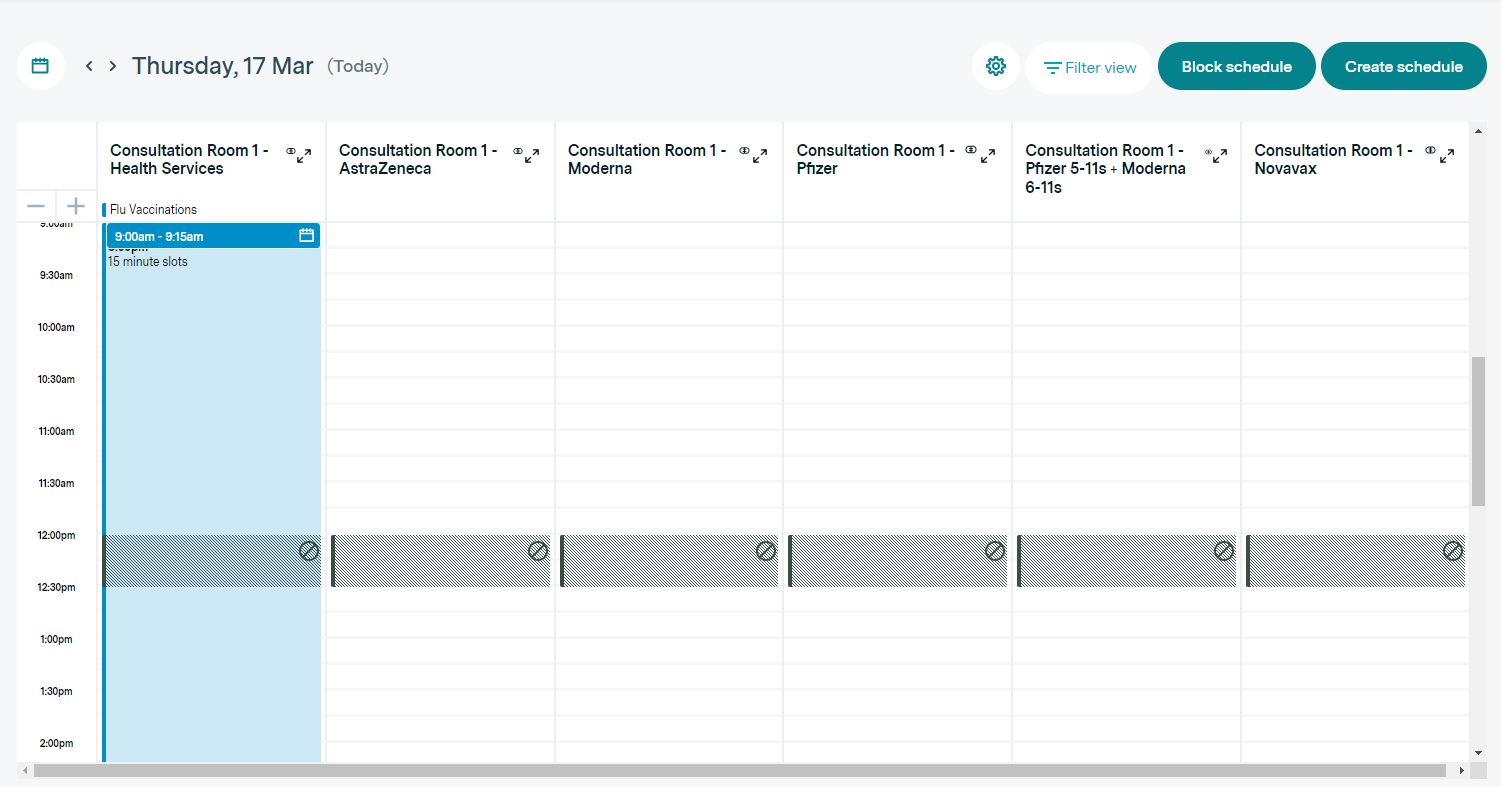 To begin creating schedules yourself, check our Healthengine Help Centre articles below that include other helpful resources such as creating Block Schedules (schedules to block out certain time frames or Public Holidays from publishing online) as well as managing existing bookings and common errors you may face when getting started!
Please Note: If you were part of a booking migration from your previous publishing provider, you will see these appointments already in your Bookings History and your Calendar once you have created your schedules.
Completing your Walkthrough
When completing your walkthrough of your Practice Admin, you should be able to complete this Checklist for Success:
Log into Practice Admin

Review your list of services and appointment types and how to toggle this on and off
Add a schedule and block schedule to your Calendar

Amend your schedule and unpublish availability

Cancel and reschedule appointments

Complete a test booking for a walk-in patient

Review your booking history and patient details

Download a run sheet
If you need to review some of our Healthengine Help Centre articles again, you can find a guided list at Help Centre - Pharmacy.

We understand that moving to new software can be a little confusing so we're here to help! For any assistance with the above categories, reach out to our friendly Pharmacy Support Team via chat, phone or email corporate@healthengine.com.au
Thank you and welcome to Healthengine!