Healthengine's new Bulk Cancellation feature allows stores like yours to cancel mass appointments in a quick and easy manner!


Using the Bulk Cancellation Feature
To start bulk cancelling your appointments, navigate to the Bookings tab in your Practice Admin and then select 'Online Bookings'.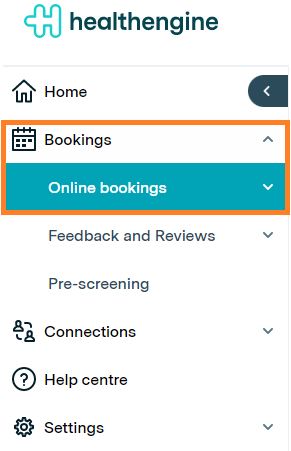 In this section of Practice Admin, you'll see the new 'Cancel Bookings' button which will be greyed out as seen below:


To use this feature, select 'Apply filters' and select the date range and appointment type that you wish to cancel. This is the same method that you currently use to Export Run Sheets or Export to CSV.
This find out more about applying filters, check out our Help Centre article, Reviewing your Booking History.

Once you have applied your filters you can tick and untick the checkboxes beside an appointment in your Bookings list. You can either select all by clicking the checkbox next to 'Date of appointment' or select individual appointment times.
Once you have selected at least one checkbox the 'Cancel bookings' button will be available to select.
Please note: Historical bookings that have passed their appointment date and appointments that have already been cancelled will not be selected.

When you select the 'Cancel bookings' button the below message will appear. If you change your mind during this process you can select the 'Never mind' button to not continue with the cancellations: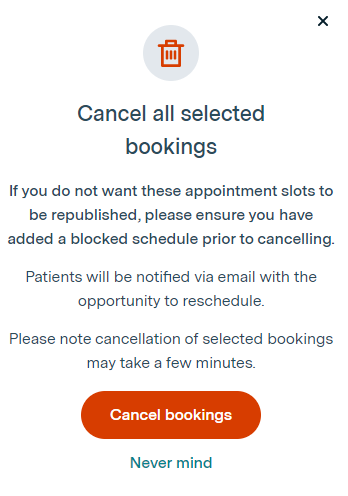 Please Note: As per the message, if you don't want the appointment times that you are cancelling to be republished, you will need to apply a block over the timeframe and room/schedule that you are cancelling prior to using the 'Cancel bookings' button.
To find out how to do this, read our Help Centre article, Creating, Editing and Deleting Block Schedules.


After selecting 'Cancel bookings' the following image and message will appear - as stated in the message, it may take several minutes to confirm the cancellation: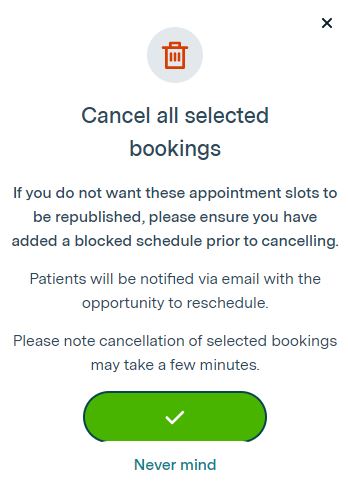 Once the cancellation is complete you will see the Cancelled status beside the relevant bookings:
Once these appointments are cancelled, patients/customers will receive a cancellation email which will also contain the option to rebook their appointment.
If you experience any issues or need assistance, reach out to our friendly Healthengine Pharmacy Team via phone, chat or email corporate@healthengine.com.au