If your practice requires a GP referral or a Mental Health Treatment Plan before seeing a patient, you can request that patients upload this information during their booking process!
In a step that can either be mandatory or optional your practice can request that patients upload their referral letter before booking online.


Generic Referral Upload

Referral Upload for Psychology Practices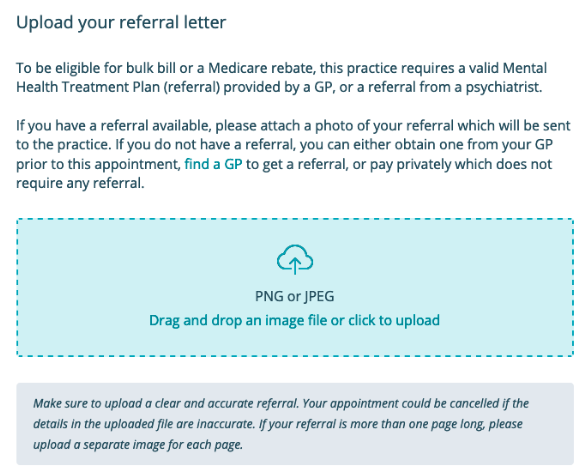 Accessing a Patients Referral Letter
Once the patient has booked their appointment you can access and download their referral letter by logging into your Practice Admin portal then navigating to Bookings and finally selecting 'Online Bookings'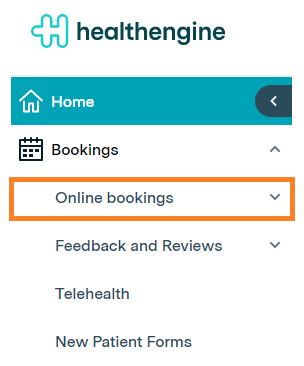 From here, if the patient has uploaded a referral you'll see a paperclip icon to the right-hand side of their booking name and information. Click anywhere on this patient's name to open up a more detailed version of the patient's booking information.

Once you've opened the patient's booking information, you will see an attachment link below the patient's details. To open up the patient's referral letter, click on the 'Attachment' link as seen below and this will allow you to download the file to your computer.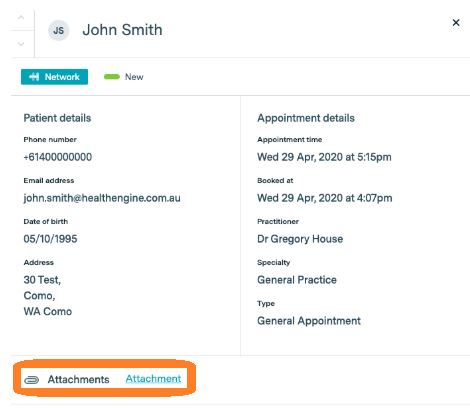 Accessing the Referral Feature:
If you would like to add referral letters to your practice's booking process, simply reach out to your Customer Success Manager or speak with one of our friendly Customer Support Team members via phone, chat or email support@healthengine.com.au