About Special Offers
Special Offers (previously known as Health Promotions), allows you to easily create, manage and promote offers available at your practice, helping reach new patients and re-engage with existing ones.
Features
Clearly display the different components of your special offer on your practice profile

Add an image to your offer, helping it stand out on your profile.

Provide extra information about your offer to help us promote it to patients.

Create and manage multiple special offers at the same time.

Ability to link your special offer to a Treatment bundle, making it easier for your patients to understand your pricing, and how much they save with your offer.
Accessing Special Offers
To access the feature, login to Practice Admin, and click on Connections > Patient Connect profile > Special Offers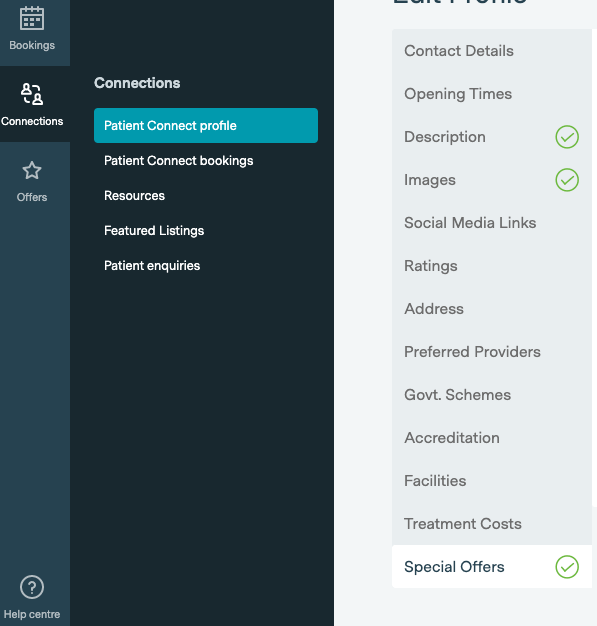 Please note that Special Offers is only available for customers who have the Patient Connect Premium tier or higher.
Create a Special Offer
After navigating to the Special Offers on Practice Admin, click on the 'Add a special offer' button. You'll be presented with all the steps needed to create your special offer and publish it on your profile
Step 1 - What is the name of your special offer?
Choose a name that can clearly explain your offer, including the discount and treatment. We recommend including only one treatment per special offer.
Step 2 - Add a description to the offer
Here you can provide additional detail to explain the special offer to patients, such as the appointment/treatment that it applies to, what the discounted price (or discounted percentage) is and which patients will be eligible.

Step 3 - How long is this offer available for?
Your special offer will need to be given a start date. This can either be the same day or scheduled in for a future date. If you add an end date, we will display that end date on your special offer and unpublish your offer the day after your selected end date. This means that your offer will still appear on the day of the selected end date.
Please note that as submitting a special offer requires HealthEngine approval, if you select your offer to go live the same day you create it, there is a chance it may not go live on that day.

Step 4 - Add an image (optional)
Giving your special offer an image will help it stand out on your practice profile. We recommend uploading a square image with no text in the image.
Step 5 - What are the terms & conditions associated with this offer?
It's important to include terms & conditions of your offer so that patients have a clear understanding of what they are receiving and if they are eligible for the offer. Include conditions such as: (a) whether it applies to new or existing patients, private patient or patients with private health insurance, (b) which private health insurance it applies to, and (c) whether there is any patient age restriction, etc.
It is the responsibility of the practice to ensure the offer adheres to all relevant regulations. For more information please refer to the AHPRA guidelines for Advertising Regulated Health Services
Step 6. - Link to treatment bundle
If your practice has added treatment bundles or pricing for individual treatments <Add link>, you'll be able to link the special offer to an existing bundle or treatment, making it easier for your patients to understand your pricing.
Please note that if you have not previously added any treatment bundles or pricing for individual treatments, this step will not be shown.
Step 7. - Let us help you promote your offer
By providing us with additional information around patient eligibility, private health insurance, what treatment this offer relates to and if the offer is gap free, we can help you promote your offer to patients. This won't affect what your patients see on your profile.
Once your special offer has been submitted, you'll be notified within 1-business day via email whether your special offer has been published on your profile or if a change is required.
Edit or remove a Special offer
Simply click on the pencil icon to make any changes to your special offer, or click the trash can icon to remove the special offer altogether.
Please note that any changes made to Step 3 (Offer start/end date), Step 6 (linking to treatment bundle) and Step 7 (additional information to promote your offer) on a live offer, apply immediately after you click to submit. For changes to information in any other step, please allow 1 business day before those changes are live.
What patients see on practice profiles
Patients will be able to see your special offer(s) above the Pricing & payments section of your practice profile. Patients will then have the ability to 'Book & redeem' the offer directly from the special offer card, taking the user straight to the booking form. If a user makes a booking using this method, the special offer will be confirmed in their booking confirmation email.
Patients also have the ability to see which treatment bundles and treatment prices are linked to a special offer. If a special offer is linked, hovering over the 'View special offer' label on the bundle/treatment will provide the patient with the name of the linked special offer.
Please note that special offers are not linked to the actual appointment types that a patient can book with your practice on HealthEngine.

How the special offer may appear on a typical practice profile.


How your treatment bundle will look when a special offer is linked to it.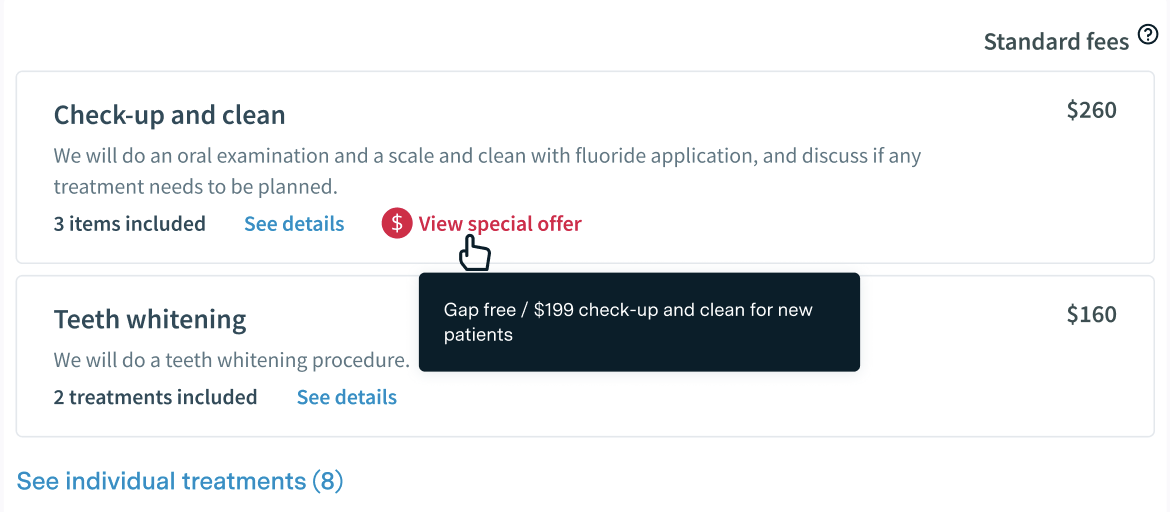 Patients can click the 'View terms & conditions' button to bring up all the T&Cs related to that special offer.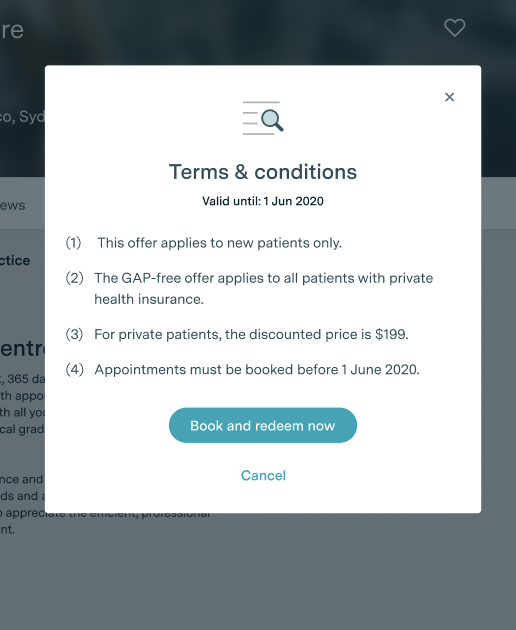 Frequently Asked Questions
Q. How long will it take for my special offer to appear on my profile?
A. Please allow 1 business day for your new special offer, or changes to your existing special offer, to appear on your profile.
Q. My offer has expired, can I put it live again or do I have to create a new one?
A. 'Expired' special offers can be turned back on by editing the 'End date' of the offer to a future date. This will not require the offer to be resubmitted for approval if this is the only change.
Q. My offer is 'Pending' but I want to make a change, can I edit this existing offer?
A. Edits can still be made to an offer that is 'Pending' with these changes overwriting your previous submission for approval.