If you have added a new practitioner or an existing practitioner's appointments are no longer showing online, you will need to link their appointment book so patient's can begin booking these appointments.


To begin, log into your HealthEngine Practice Admin and navigate to Settings then click 'Manage practitioners'.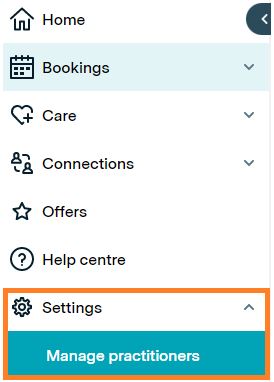 From here, select 'Edit appointment types' in line with the practitioners name to bring up their appointment type setup page.

Once you scroll down on this page under your Practice Management Software (PMS), you'll see a green button that asks you to either select an appointment book or to change the appointment book for that practitioner as seen below:


Once you click this green button, select the corresponding appointment book for that practitioner from the drop down. Once connected their appointments will appear online within the next 5-10 minutes.
Please Note: If you don't see the appointment book you are looking for in this list, it may be that it hasn't been set up correctly for online appointments in your PMS or that this practitioner doesn't have any availability in the near future.
For more information on setting up practitioner's for online appointments in your PMS, refer to your software's user manual or contact their support team!
If you experience any issues or need assistance with making changes, reach out to our friendly Healthengine Support Team via phone, chat or email support@healthengine.com.au