In your Calendar feature, you have the ability to book appointments for walk-in patients or patients who call over the phone. In this article, we'll show you how to make a bookings for these patients in multiple scenarios!


Page Content:
To begin creating a booking for a patient in-store or over the phone, simply navigate to the 'Settings' tab in your Practice Admin and select 'Manage availability' to bring up your Calendar view.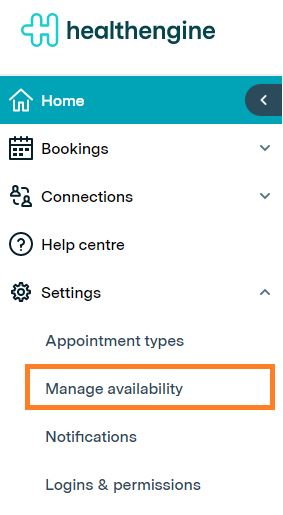 Following this, navigate to the day you wish to book the patient in and click in the corresponding schedule to bring up its available slots.
To find out how to create schedules, read our Help Centre article, How to Manage Availability in Calendar.
From here, click on the 3 vertical dots beside an appointment slot and then select 'Book Appointment'.
This will take you to a new page with the Healthengine Booking form so you can begin making this booking for your customer (this is the same booking form customers see when completing a booking themselves).
Making a Booking for One Customer
When creating a booking for a singular customer, you will be asked a series of questions in which you will need to answer as the customer themselves. The first question is whether this appointment is for the customer themselves or someone else - in this scenario, you will need to select 'Myself'.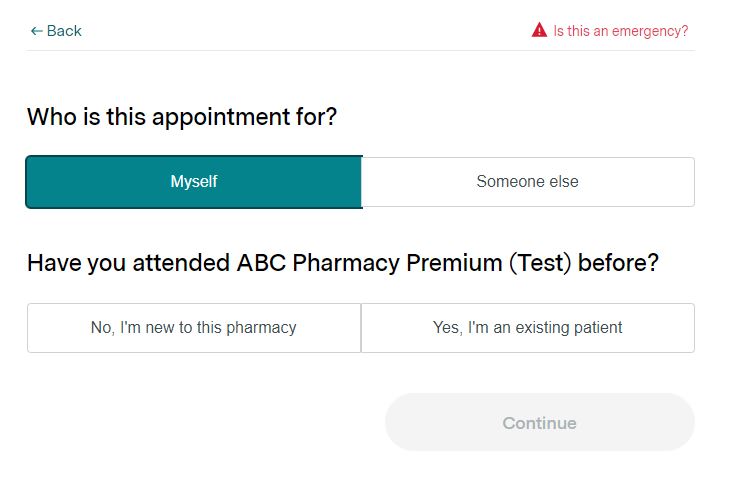 This will then prompt the question whether they are a new or existing customer at your store, select the required answer.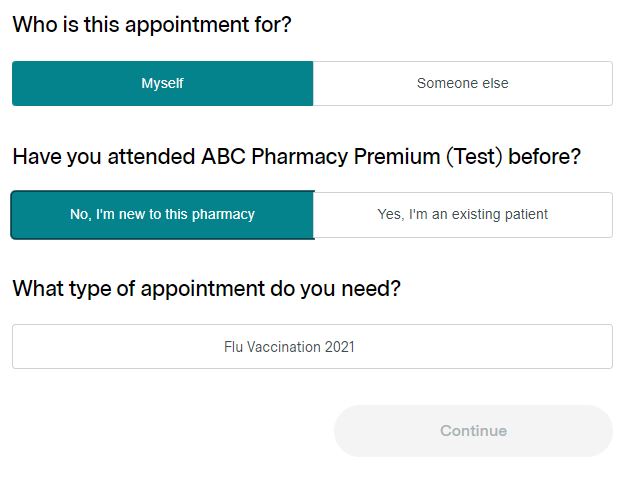 Then, select the appointment type the customer needs and finally click 'Continue'.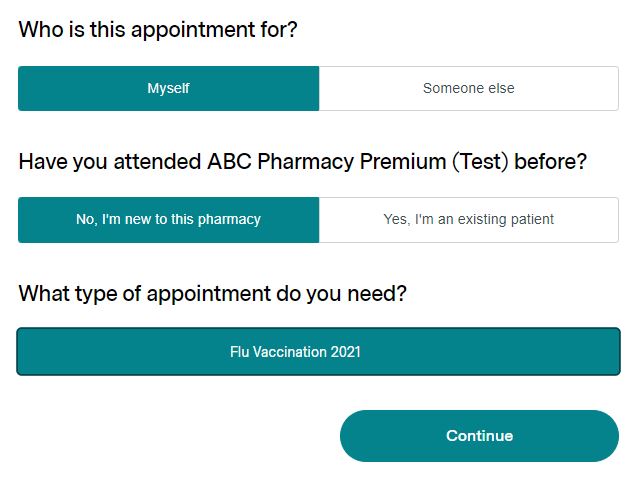 Following this, you will needs to fill out the customer's details in the form as shown below and click 'Continue'.
Please note: Mandatory fields are marked with a red asterisk.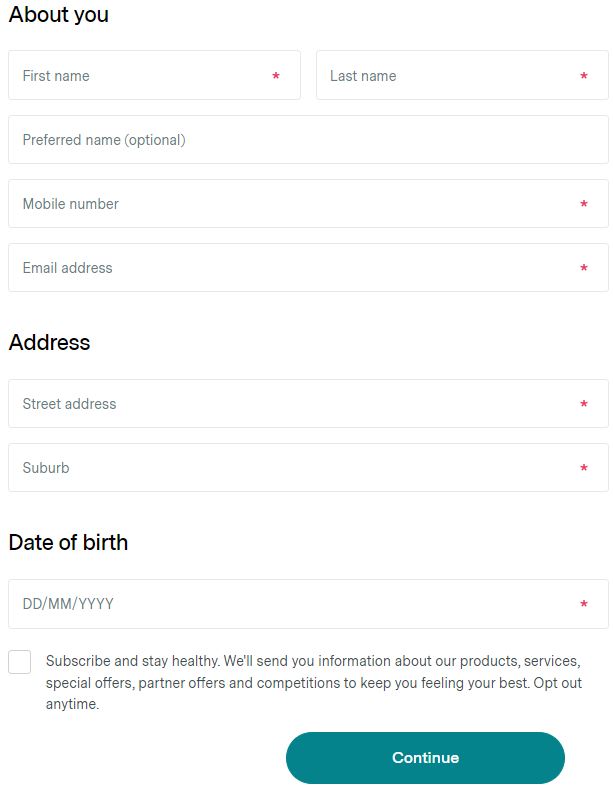 Finally, select how this customer would like to pay and then click the 'Book now' button to complete the booking!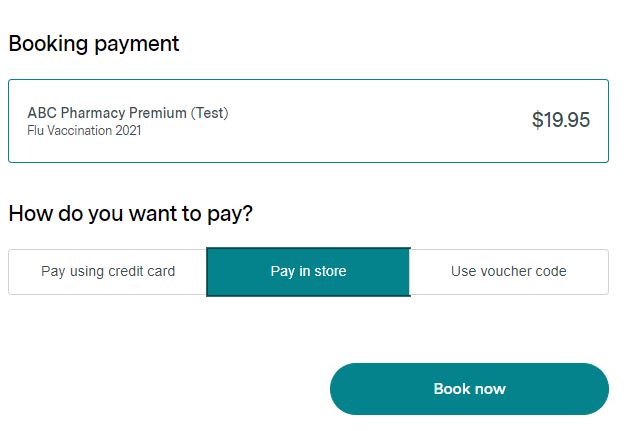 A Customer Wants to Make a Booking for Someone Else
There are a few scenarios you may come across when a customer wants to book an appointment on someone else's behalf. These can include:
A parent making a booking for their child
A caregiver who needs to make a booking for their dependant
A person making a booking for a friend or family member who may have difficulties booking online
A person who doesn't have either a mobile phone or email address to complete the booking
When making this type of booking for a customer, you'll be going through the same process as described above however, a few of the answers will change.


When asked whether this appointment is for the customer themselves or someone else, you will need to select 'Someone else'.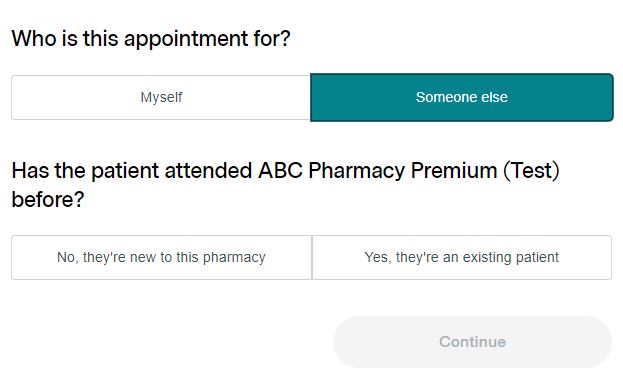 Select if they are a new or existing customer to the store and finally the appointment type this customer needs.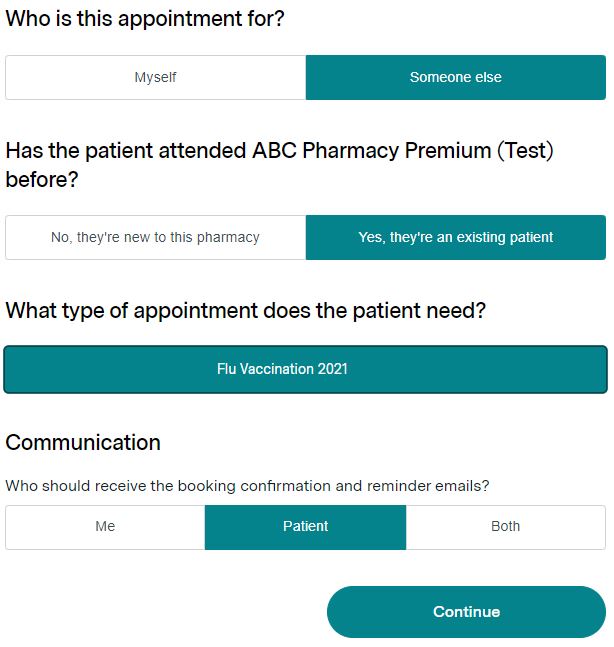 In this section, the final question you'll need to answer is who will receive the booking confirmation and reminder emails.
Please note: This will immediately default to patient, so double check this with customer before selecting 'Continue'.
Finally, just as in the previous scenario, you will need to fill in the details of the person that is making a booking on behalf of the patient and select their form of payment.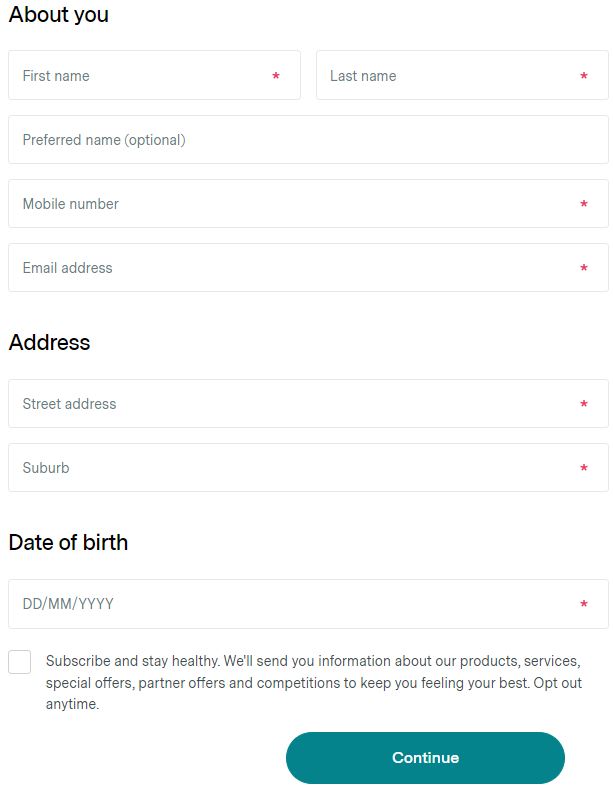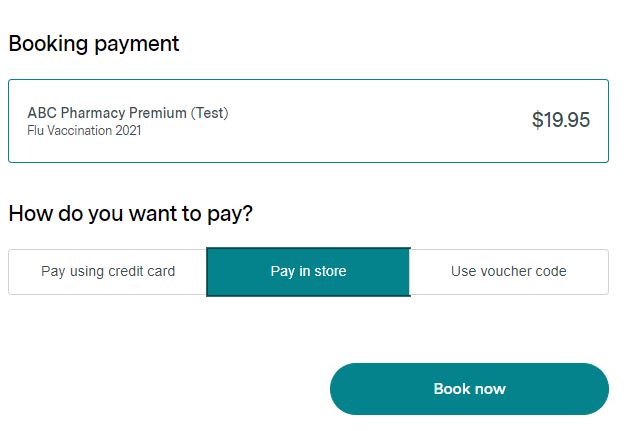 Adding Multiple Bookings to the Same Appointment Slot
Sometimes you may need to add more than one booking to the same time slot if, for example, there is a family or group booking.
You will be able to access this feature once the first booking has been made, or if there is already an existing booking in the time slot you want to use.


To do this, navigate to your Calendar and click on the necessary schedule. In the this pop-up, click on the 3 vertical dots of the appointment time you require and then select '+ Book new patient' as seen below:
Once this has been selected, it will open up a new booking form where you will enter in the new customer's details.
When you go back to the schedule and click on the refresh icon, you can see the duplicate slot that has been created at that time in preparation for the additional booking.
Please Note: Ensure you are making the additional booking in a timely manner as any delays could potentially cause a double booking to occur.
If you require any assistance with making a booking for a customer, reach out to our friendly Pharmacy Support Team via chat, phone or email corporate@healthengine.com.au