Appointment Types is a useful tool where you can manage which services and appointment types are available for your patients to book online!


Viewing your Services and Appointment Types
To manage your appointment types and services, simply navigate to Settings and then click on 'Appointment types' in your Practice Admin.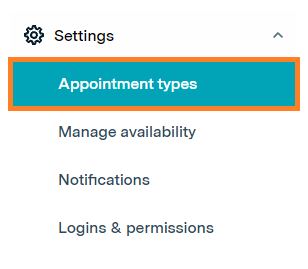 In this section, you'll see the list of services your practice provides to patients and their corresponding appointment types as seen below:
Hiding a Service or Appointment Type
If there are certain services or appointment types you don't want patients to book online, you can hide these with a click of your mouse!
The simple toggle button as seen in the images below allows you to disable specific appointment types or entire services for online bookings.


To hide a specific appointment type, toggle the button off beside the required name:
To make an entire service unavailable for online bookings, toggle off all appointment types linked to its service as seen below:
Fortunately, while these appointment types and services are disabled for patients to book online, your practice is still able to book these appointments in for them through the Manage Availability section in Practice Admin!
You can learn more about this in our Help Centre article, How to Make a Booking in Calendar.
Enabling Services and Appointment Types
Appointment types that are enabled are what patients will see online - it's important to toggle these on when your practice is ready to have these services booked online.
For an example of this, check down below:
Want to Publish your Prices?
Currently, publishing your prices on HealthEngine isn't a self-serve feature but our friendly support team is happy to add this by request!
With approval from head office, you can email all requests to corporate@healthengine.com.au