Pre-screening Forms are a set of digital questions sent to customers who have booked their vaccination appointments with your store! These questions provide additional information about the customer receiving their vaccination type and can be found and easily managed ahead of their booking.


These Pre-screening Forms are automatically activated for any stores that have the following appointment type toggled on in their 'Appointment Types' feature of Practice Admin. To read more about this, check out our Help Centre article, Managing your Services and Appointment Types.
COVID-19 Vaccinations
Flu Vaccinations
Vaccinations
Please Note: Healthengine offers an integrated solution for stores with MedAdvisor PlusOne and a solution for stores without.
Stores Integrated with MedAdvisor PlusOne
After booking their appointment, customers will receive their Pre-screening email 24 hours before their appointment time. If the customer has booked within the 24-hour time frame, they will receive immediately along with their booking confirmation email.
Once the patient clicks on the 'Fill pre-screening form' button, they will be directed to a form as seen in the example below:
Please Note: This is not an example of a complete Pre-screening Form and questions vary depending on the vaccination type. To view these, please click on the following links below.
When the customer completes this form and selects the 'Submit' button, a final message will appear indicating that the form has been successfully submitted.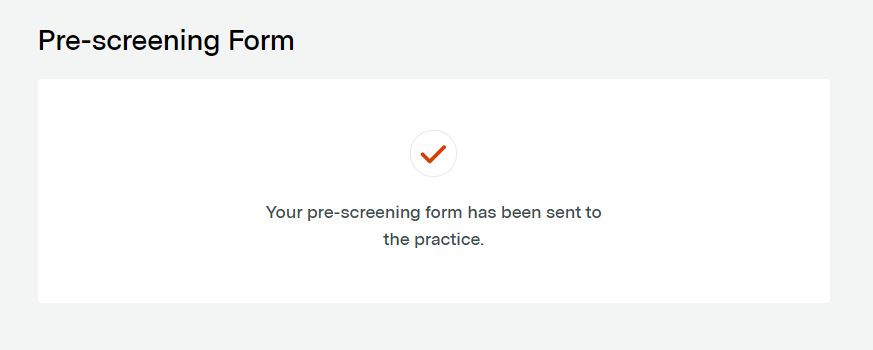 Once the customer has filled this out, the digital form will be sent to MedAdvisor PlusOne ready for you to access before their appointment. To check if Pre-screening Forms have been completed in MedAdvisor PlusOne, check out the MedAdvisor help article here.


Stores without MedAdvisor PlusOne Integration
If you do not have MedAdvisor PlusOne, A customer's completed Pre-screening Form can be found in your Practice Admin! The form will be inserted 24 hours before the patient's appointment and then removed from the following sections 14 days after.


The Pre-screening Form will be uploaded as a PDF to your Practice Admin and can be found by either selecting 'Bookings' and then 'Online bookings' or Bookings and then 'Pre-screening'.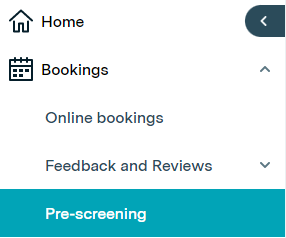 To view this Pre-screening form in Online bookings, click on the yellow form icon beside a customer's name and scroll down on the pop-up booking information to then select 'Download form'.
Example of the Pre-screening form in Online bookings:

To view this pre-screening form in Pre-screening form, click on the icon beneath 'Download form' beside a patient's name.
Example of the Pre-screening form in Pre-screening:

Frequently Asked Questions
What happens when a patient doesn't fill out their Pre-screening Form?
If you have MedAdvisor PlusOne, we recommend advising the customer to go back into their email and fill out the live link rather than giving them a manual form to fill out.
For non-integrated stores, depending on your internal process, you can advise customers to use the link in their email, provide a manual form or enter details directly into your system.


Does the Pre-screening Form link expire?
Yes. The link can be used up until 1-hour past the booked appointment time. So even if the appointment is running late, you have an hour grace period for the customer to fill out the pre-screening form. If the customer tries to access the link after this time, they will receive a message that this is no longer available.
After the 1-hour grace period, the form won't be able to submit to HealthEngine's Practice Admin and so the store must revert to manual methods. This applies to MedAdvisor PlusOne integrated and non-integrated stores.


What if the customer makes an error in the form, can they fill it out again?
No. The customer can only submit the form once - any errors will need to be corrected in MedAdvisor PlusOne or your chosen system.


Does the form save information, if the customer needs to go back to it?
No. Due to data privacy, we do not save any sensitive information prior to submitting the form. If you have completed part of the questions and need to go back to it, you will need to start again.
If you experience any issues or need assistance, reach out to our friendly Healthengine Pharmacy Team via phone, chat or email corporate@healthengine.com.au