In this section of Practice Admin, we will show you how you can control when your COVID-19 Vaccine is available for patients/customer to book online.
To access this section, navigate to 'Settings' and click on the 'Appointment Types' tab.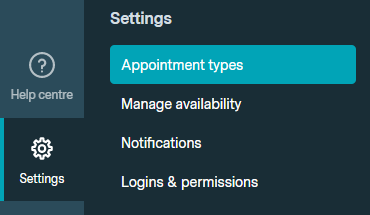 From there, you will see your COVID-19 Vaccine appointment types and the corresponding length.
In the event, you have exhausted your allotment of the COVID-19 Vaccine, you can temporarily stop online bookings by toggling off both appointment types as below:
Use the toggle as shown below to enable or disable: