In this section of Practice Admin, we will show you how you can control when your COVID-19 Vaccine is available for patients/customer to book online.
To access this section, navigate to 'Settings' and click on the 'Appointment Types' tab.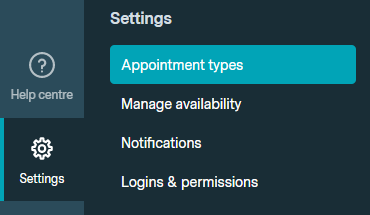 From there, you will see your COVID-19 Vaccine appointment types and the corresponding length.
In the event, you have exhausted your allotment of the COVID-19 Vaccine, you can temporarily stop online bookings by toggling off both appointment types as below:
Use the toggle as shown below to enable or disable:
When toggled off, patients will be unable to complete a COVID Vaccination booking, even if you have availability published. You can then also remove the availability from your calendar afterwards. When you are ready to take bookings again, just toggle these types back on and republish your availability if that was removed.