If you have a practitioner that is setup in your practice software who temporarily doesn't need to publish their appointments online, Healthengine gives you the option to hide these appointments from your patients!
Disabling a Practitioner from Online Publishing
To disable a practitioner from publishing online, log into your Practice Admin and navigate to 'Settings' then click 'Manage Practitioners'.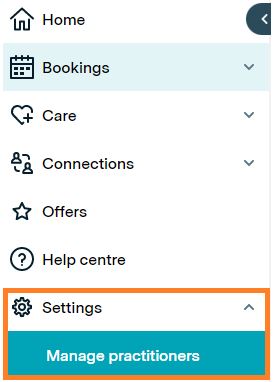 From here, find the practitioner you wish to hide and click 'Edit appointment types' in line with their name as seen below:

This will take you to their appointment type setup page where you can toggle on and off their online bookings from showing on Healthengine and your practice website.

The first toggle option will hide this practitioner's availability from the HealthEngine Network i.e., the HealthEngine website and the app.
The second toggle option will hide this practitioner's availability from the Online Booking System on your practice website. Please Note: this option is only relevant if you have this subscription with Healthengine.


When these buttons are toggled grey as seen in the image above, this means that the appointments are hidden from online bookings.


In the case of an emergency, if you need all practitioners to cease publishing appointments online, you can click the button above the list of your practitioners to disable them


Re-Enabling a Practitioner to Publish Online
When you want to re-enable these practitioners to publish online once again, simply navigate to the same 'Edit appointment types' section in Manage Practitioners and toggle these buttons back on to blue with a tick as seen below:

Please Note: When making these sorts of changes, there is no necessity to click 'Save' anywhere - Changes are automatic!
If you experience any issues or need assistance with making changes, reach out to our friendly Healthengine Support Team via phone, chat or email support@healthengine.com.au