Our integration with SoE / HS1 Dentrix/Ascend requires that all the appointment types you have listed on HealthEngine are linked to an appointment type in your Dentrix/Ascend PMS (known as appointment reasons) and that the lengths match those set up in your system for that appointment reason. If they are not linked or the lengths do not match, the booking will fail.
Below are some common troubleshooting questions we are asked:
How to link your appointment types and set the correct length
You link your appointment types in your practice admin portal under settings> manage practitioners> edit appointment types. If you have a HealthEngine appointment type created that is not linked to a Dentrix/Ascend appointment reason the booking will fail. Below is what it looks like if appointment types are linked:
You also need to ensure that the appointment type length in HealthEngine matches the length of the appointment reason in Dentrix/Ascend. Please ensure each of your practitioners appointment types are linked and the lengths match those that are set up in your appointment reasons.
In Dentrix/Ascend, the appointment reasons are found in your settings> scheduling template> appointment reasons. The reasons and lengths are set for all practitioners.
My Dentrix/Ascend appointment reasons are not showing up in the Linked PMS Appointment drop down.
If you don't see your Dentrix/Ascend appointment reasons listed in the drop down we will need to do a refresh of your Linked PMS Appointment types - Use the below button which is found at the top of the edit appointment types page to do this.
My Patient said they cancelled their appointment but it is still in my appointment book?
Our integration with SOE does not allow online cancellations through HealthEngine. If a patient tries to cancel their appointment through their booking confirmation they will be directed to call the practice and cancel over the phone. When they call you must manually remove the appointment from your appointment book, this will redisplay the time online for someone else to book. In Dentrix/Ascend you can do this by marking it as Broken or FTA, that way you can look back on these appointments if needed. To mark an appointment as Broken, you click into the status, and change the status from unconfirmed to Broken.
When appointments have been marked as Broken in Dentrix/Ascend, they are removed from your diary and the appointment is redisplayed on HealthEngine for another patient to book. If you then change your view settings to Show missed appointments as shown below, you can see any Broken or FTA appointments in your diary (they show slightly faded in the appointment diary).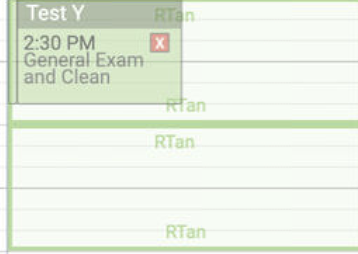 How do I block availability showing on HealthEngine in Dentrix?
In Dentrix, to block availability you can add an appointment or do not book slot to the time slot you do not wish to publish on HealthEngine. When doing so, you must ensure that you assign a practitioner to the slot, even a do not book slot, in order for it to block the availability on HealthEngine.
Why have my appointments disappeared after I changed an appointment reason in Dentrix?
For your Dentrix/Ascend integration, we may choose a default appointment type to pull through your appointment books as you cannot rearrange the order of your appointment reasons in Dentrix/Ascend. This would be the shortest length appointment you have, and one that is associated with all your practitioners so that we can pick up their appointment books.
If you delete that appointment reason, it would then sever our connection to your appointment books. If this occurs please contact us and let us know which appointment reason you removed from Dentrix so we can check if it is your default one and if so, assign a different one as the default. If your practitioners don't do the same appointment reasons, it may be worthwhile creating a HealthEngine appointment reason, setting the length the same as your shortest appointment length, and letting us know so that we can use that for your default.
All my availability from Dentrix/Ascend is not displaying online?
With Dentrix/Ascend you may find that only the appointments directly after a break are shown online. This is due to appointment stacking, as mentioned in the heading "Only some of my appointments are showing online?" above. There is currently no 'appointment stacking' checkbox you can click to overcome this as there is in Exact. It will typically mean the first available appointment of the day, and the one after your practitioner returns from their lunch break are the only ones shown online. If you enter a new booking into your diary, the next appointment time after that one will then display, and so on. You can also manually enter breaks into your diary to display the appointment time after the break online.