Block Schedules are a useful feature that can be applied to various scenarios for your store!
Whether it's Public Holidays, lunch breaks, holiday closures or annual leave Block Schedules allows your store to unpublish available schedules rather than manually unpublishing individual time slots.
Creating a Block Schedule
To create a Block Schedule, simply navigate to Settings -> Manage Availability -> Click on 'Block Schedule' in the top right hand corner and then follow the steps below:


1. Filter the Block Schedule to apply to all or specific rooms by selecting the 'Schedule for' drop down and ticking the relevant rooms.
2. Select the start date of your Block and the specialties you'd like to apply to the rooms previously selected.
Note: To apply a Block Schedule to every specialty, simply select the 'All specialties' box!
3. Select the start and end time that will apply to the Block Schedule - Make sure to select times that cover the start and end time of the currently published schedule.
Note: Adding a reason to your Block Schedule can help other staff identify why this block is active but this is optional!
4. Select the days of the week you'd like the Block Schedule to apply to and whether this block will have any repeat settings.
5. Finally, click the 'Block Schedule' button and you've created a Block Schedule! This Block Schedule will appear as a grey shaded area over your existing schedule.
Editing or Deleting a Block Schedule
To edit your Block Schedule, simply hover over the circle icon in the top right corner of the schedule until it turns into a pencil. Click on this pencil icon and the Block Schedule menu will appear again to make your changes.
Note: Make sure to click 'Save' for your changes to be applied!
To delete the Block Schedule, click on the 'Delete' button on the same Block Schedule menu.
Please Note: After a Block Schedule has been deleted, the appointments won't republish themselves - to republish these, click the 'Republish all appointments' button beneath the Calendar.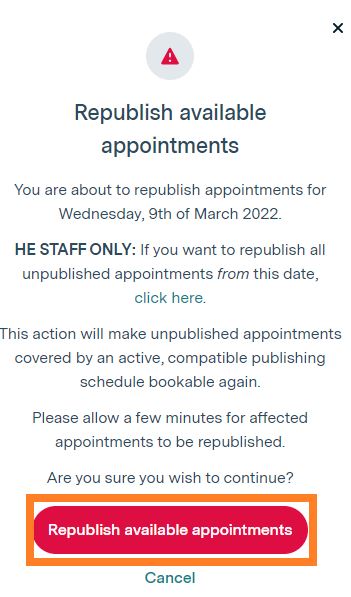 If you are experiencing issues in creating, editing or deleting your Block Schedule, contact our friendly HealthEngine Support Team via phone, chat or email support@healthengine.com.au