If you have recently added a practitioner and need to tailor their appointment types to your practice or potentially remove some due to COVID-19 restrictions, Practice Admin allows you to edit this at any time!


To add, edit or remove an appointment type from a practitioner, simply navigate to the 'Settings' menu in Practice Admin and select 'Manage Practitioners'.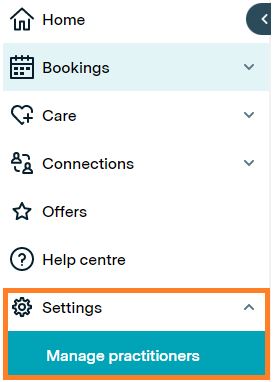 From here, click on the 'Edit appointment types' button aligned with the practitioner's name and you will be taken to a new page.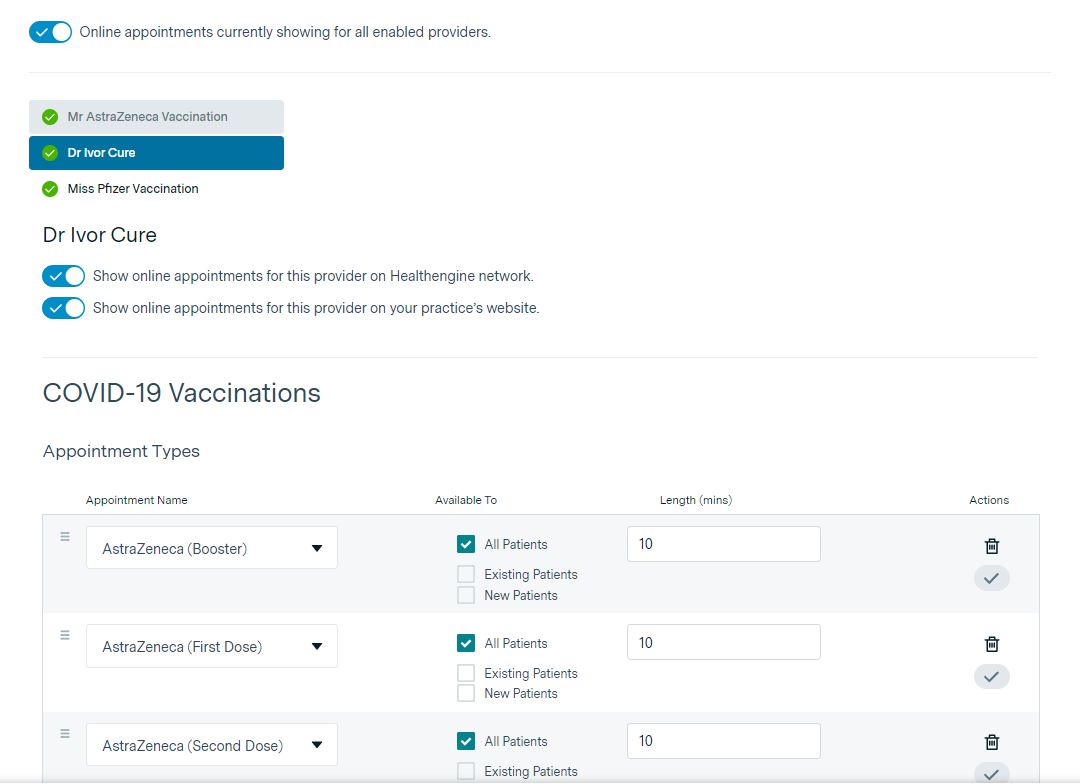 How to Add an Appointment Type
To add an appointment type to a practitioner, scroll down to the bottom of the page and click the 'Add appointment type' button in the bottom right-hand corner.

This will add a blank appointment type column that you can fill out with the relevant information.
Please note: If you have a contracted GP Profile with Healthengine, you will have a drop down box with appointment type options to choose from - if you'd like to add an appointment type that isn't there, you will need to contact the Healthengine Support Team.

Be sure to select which patients you would like to make this appointment available to, e.g., All Patients, Existing Patients only or New Patients only and ensure the duration of this appointment is aligned with the practitioners preferences.
For 'All Patients' appointment types, the length will apply to this appointment type for all users, both existing and new.

For 'Existing Patients' appointment types, the length will apply to patients that have visited your practice in the past and will not appear in the booking flow for patients that select themselves as new.

For 'New Patients' appointment types, the length will apply to patients that have never been to your practice before and this will not appear in the booking flow if a patient selects themselves as existing.

Alternatively, if you would like to offer the appointment type to both new and existing patients but would like the appointment type to insert as different lengths, you can select both 'New Patient' and 'Existing Patient' then specify the relevant appointment lengths.

To save your changes, click the 'Save All' button in the bottom right-hand corner of the page beneath 'Add appointment type'.

Please Note: Ensure that any variation of appointment length is in multiples of your standard appointment length. For example, if your standard appointment length is 15 minutes, you would want to publish appointments that are either 15, 30, 45 or 60 minutes etc.
How to Remove an Appointment Type
To remove an appointment type, simply click the bin icon to the right of the appointment type you wish to delete.

You will be asked if you're sure you'd like to delete this appointment type, to which you can select 'Yes' or 'No'.

About Linking Appointment Types
If you are using a Practice Management Software (PMS) that is integrated with HealthEngine, you will also be able to link the appointment types from your PMS to the appointment types that Healthengine displays online.


To do this, simply select the drop down box underneath the heading 'Linked PMS Appointment' as shown below and select an appointment type that is found in your PMS.
This means that if a patient books that appointment online, it will enter into your software as the appointment type listed in your Practice Management Software.

Please Note: Linking appointment types is necessary for the integration with SOE and D4W.
If you experience any issues or need assistance with making changes, reach out to our friendly Healthengine Support Team via phone, chat or email support@healthengine.com.au